Posted on
Mon, Mar 7, 2011 : 10:55 a.m.
How public sentiment shifted against film incentives (and what Rick Snyder can learn from it)
By Nathan Bomey
Public sentiment dictates political outcomes more than any other factor.
That's what Gov. Rick Snyder needs to remember if he wants to get anything close to his proposed budget passed by the Michigan Legislature.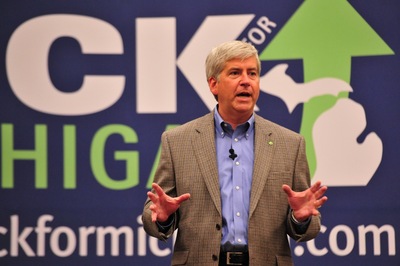 Ryan Stanton | AnnArbor.com
If he can shift public sentiment, he can overcome the diverse amalgam of political groups that have amassed to destroy his proposals to structurally eliminate a $1.5 billion deficit. Single-handedly bending public sentiment, however, is among the most challenging feats for a politician.
It's exceedingly rare. People believe what they believe — and most politicians maneuver their policies into voters' comfort zone.
There are signs, however, that Snyder's budget proposal — initially opposed by schools, universities, cities, unions, seniors, Jeff Daniels and the entirety of Hollywood — is gaining steam.
A telling example is the shift in public opinion over the value of the state's film industry tax incentives, which provide a cash rebate of up to 42 percent of a production company's spending in Michigan. Snyder wants to reduce the unlimited incentives to a capped pool of $25 million a year, allowing existing productions to keep their tax credits but essentially eliminating the program in the future, at least as we've come to know it.
That touched off a firestorm of criticism. Daniels lambasted the governor for having the audacity to spotlight the fiscal insanity of giving the film industry a blank check every year, and other supporters said the proposal would drive young people out of the state. (As if they're not leaving already.)
And they did so believing that public opinion was in their favor. In October, a poll by EPIC-MRA found that 58 percent of Michigan voters supported the incentives, while 33 percent opposed the incentives. A huge majority.
However, public sentiment is turning against the film incentives. In a new poll conducted by EPIC-MRA and published Sunday by the Detroit Free Press, 46 percent of Michigan voters oppose the incentives, while 41 percent support them.
In Hollywood, that's what they call a death blow.
So, public sentiment is shifting against the film incentives, which, as currently designed, would continue to pay out unlimited cash to the film industry even if Hollywood producers decided to make every single movie in Michigan going forward.
Yet, the film industry is but a small piece of Snyder's budget proposal.
The budget truly hinges on Snyder's ability to convince the Legislature to eliminate tax exemptions for pension holders, cut business taxes by $1.8 billion and enact a litany of cuts for schools, universities and cities.
It's an uphill battle for Snyder. Way uphill. EPIC-MRA also found that voters oppose his pension tax proposal by a margin of 53 percent to 41 percent.
With the film incentives, Snyder shifted public sentiment by exposing the incentives' fiscal irresponsibility. Now, however, he needs to find a way to convince voters that the pension tax is necessary to pay for business tax cuts that are similarly needed.
It's far from clear whether that's possible.
But if it is possible for Snyder to get something similar to his budget passed, here's what he has to do:
1. Announce a series of public talks — preferably at retirement homes or senior centers — to explain to pension holders why you believe their exemption must be eliminated. Explain how Michigan is at a disadvantage because most states and the federal government tax pensions — and that a state without a pension tax will be practically bankrupt as demographic shifts turn our population grayer. Portray the pension tax as a way for senior citizens to invest in a structurally sound state government so that their children and grandchildren have a better foundation on which to build their lives. Remind seniors that Medicare reimbursement rates would remain stable under your budget, a surprising piece of the proposal that benefits seniors indirectly.
2. Make the case that business tax cuts are long overdue and not, in fact, a generous giveaway to your business buddies. Snyder is in danger of being branded as a politician who cares more about businesses than individuals. But anyone who knows anything about the Michigan Business Tax — on both sides of the political aisle — knows that the MBT is a joke. That, however, is not enough. Snyder needs to describe why he believes the MBT must go and he must prove that business tax cuts will create jobs, an argument that has understandably drawn skepticism.
3. While you're at it, scale back the business tax cuts. Snyder wants to replace the MBT with a flat 6 percent tax on corporate income that would not hit many of Michigan's small businesses. Make it 6.5 percent or 7 percent and brand it as a concession. Here's betting that this has been part of the plan all along.
4. Propose that state Legislators adopt legislation reducing health care benefits for themselves. This is a populist proposal that former state Rep. Pam Byrnes, D-Lyndon Township, tried to pursue while she was still in office. It's not enough for Snyder to say he'll accept a $1 salary as part of his plan for "shared sacrifice." A proposal such as this would make it much easier to convince unions to give up the $180 million in concessions Snyder is seeking — which they should probably view as a heavenly gift in comparison with Wisconsin Gov. Scott Walker's collective bargaining assault.
If voters believe that everyone is sacrificing — even the politicians — they'll be more willing to get on board with Snyder's agenda.
Contact AnnArbor.com's Nathan Bomey at (734) 623-2587 or nathanbomey@annarbor.com. You can also follow him on Twitter or subscribe to AnnArbor.com's newsletters.