Posted on
Thu, Oct 13, 2011 : 10:26 a.m.
How will free trade agreements affect Michigan? John Dingell, Rick Snyder disagree
By Nathan Bomey
Ann Arbor area political officials quickly sought to paint the United States' new free trade agreements with South Korea, Colombia and Panama as job creators or job killers as businesses prepare to compete in markets with lower tariffs and fewer trade barriers.
The free trade agreements, which were passed by Congress on Thursday and are supported by President Barack Obama, will instantly reduce Korean tariffs on U.S. goods by $10 billion to $12 billion, according to the Office of the U.S. Trade Representative.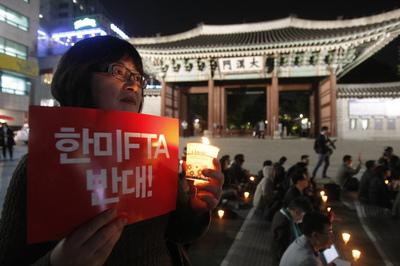 Associated Press
U.S. automakers have applauded the Korea agreement — the largest U.S. trade pact since the
North American Free Trade Agreement
— because it makes it easier for the American car companies to sell their vehicles in Korea.
Supporters say the agreements will position the U.S. to boost its exports to those three countries, with exports to Korea rising by about $10 billion.
"Michigan is a clear winner with the free-trade agreements approved by Congress," Michigan Gov. Rick Snyder, a Republican, said in a statement. "As one of North America's top producer states, Michigan will benefit greatly by opening new doors to global markets. Michigan's congressional delegation deserves our appreciation for working effectively to ensure the agreements' passage."
Snyder described the free trade agreements as opening up opportunities for Michigan's agricultural industry, too.
"This is our chance to show the world what we already know: Michigan's farmers and workers are the best in the world," he said. "As more foreign consumers see what Michigan has to offer, demand for our products will continue to climb. That means a more prosperous Michigan with exciting opportunities for the next generation. I commend Congress and the president for doing what's best for Michigan and America."
U.S. Rep. John Dingell, D-Dearborn, split with the president to oppose the agreements. Dingell also disagreed with the United Auto Workers union, which supported the Korean pact and opposed the Colombian agreement, while some other union groups opposed the deals.
"My experience with FTAs has been one of nearly two decades of broken promises and widespread domestic economic dislocation, particularly in my home state of Michigan," Dingell said in a statement. "With our economy teetering on the edge of recession and the painful memory of millions of lost jobs, I cannot vote in good conscience for more free trade agreements."
Dingell cited concerns that Colombia would be hostile to organized labor — and that the free trade agreement won't force the South American country to improve its treatment of workers.
He also said he's skeptical about claims that the Korean agreement will boost the U.S. economy, citing a study by the International Trade Commission projecting that the American auto trade deficit with Korea will rise by more than $700 million over the next 10 years.
"Although I recognize that significant improvements in terms of tariff and non-tariff barriers to trade have been made in the Korean trade agreement, I rather unhappily believe that promises will not translate into reality. In short, I believe the United States is giving up far too much for mediocre market share gains in the short term," Dingell said. "This agreement may well boost our exports to Korea over the next few years, but I am firmly convinced that the benefits Korea will reap in the long run — especially in the auto sector — will eclipse any that the U.S. may achieve."
His comments come as Obama is preparing to visit metro Detroit on Friday with the South Korean president to celebrate the news.
In Washtenaw County, auto suppliers are likely to be the most affected by the free trade agreements.
The county is home to few companies based in Korea, Colombia or Panama, although the Hyundai-Kia America Technical Center Inc. in Superior Township employs more than 170 workers. Hyundai released a statement today praising the passage of the agreement. "It is too early to determine what impact there might be of the Korean-U.S. Free Trade Agreement on the HATCI Ann Arbor facility," Hyundai said. "However, we do not foresee any significant changes at this time."
In an interview in July, Hyundai Motor America CEO John Krafcik told AnnArbor.com that the U.S.-Korea free trade agreement would have only a minimal impact on Hyundai's U.S. business, since the automaker is making more of its cars in the U.S.
"Honestly, from our point of view, it doesn't matter that much. The cost benefits, the tariffs, are relatively low — and we have more and more U.S. production anyway," Krafcik said. "We're going to build about 400,000 cars in the U.S. this year and sell about 600,000. So when you look at it, it's a pretty small base of cars, pretty small tariffs we're talking about anyway."
For more on the national impact of the free trade agreements, read these stories:
Washington Post: Obama gets win as Congress passes free-trade agreements
Korea Times: Trade pact gets mixed reactions
USA Today: Trade deals with S. Korea, Colombia, Panama, who wins?
Bloomberg: Biggest U.S. Free-Trade Accord Since '94 Passed
Associated Press: Provisions of bill providing aid to trade-displaced workers as part of free trade package
Contact AnnArbor.com's Nathan Bomey at (734) 623-2587 or nathanbomey@annarbor.com. You can also follow him on Twitter or subscribe to AnnArbor.com's newsletters.