Posted on
Wed, Apr 25, 2012 : 10:47 a.m.
Hyundai lands $2.5M business incentive to aid expansion at Superior Township facility
By Lizzy Alfs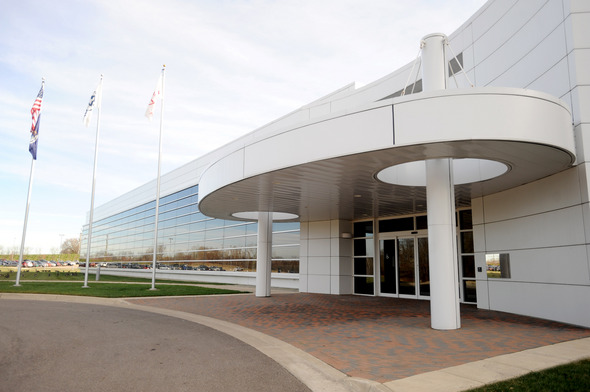 File photo
The
Hyundai-Kia Technical Center
in Superior Township is one step closer to its
$15 million expansion
on Geddes Road.
The Michigan Economic Development Corp. announced this week that the Michigan Strategic Fund will provide $2.5 million in capital to support the expansion — which is expected to add 50 new jobs over the next five years.
The expansion involves the construction of a new environmental chamber, called a "Hot/Cold Weather Dynamometer Test" facility, which will be used to test vehicles in extreme temperatures.
Hyundai already employs about 170 workers at the 200,000-square-foot facility, which conducts powertrain testing, calibration and some general engineering and design activities for Hyundai vehicles. The center opened on Geddes Road in 2005.
Central to the expansion was that the Michigan Strategic Fund provided the $2.5 million in capital. Those funds will be repaid over time using tax dollars from a Local Development Financing Authority (LDFA) recently established by the Superior Township Board of Trustees in consultation with economic development group Ann Arbor SPARK.
The State of Michigan will fund construction of a new power substation at the Superior Township center that will improve the power output to the building — an upgrade Hyundai desperately needed. Superior Township has offered support to the project in the form of a tax abatement, according to a release.
Because the company uses sensitive testing equipment like a dynamometer, the Superior Township facility is prone to electrical outages when current fluctuates, which also causes problems for the company's network infrastructure.
Hyundai had indicated that it would not launch an expansion without a reliable electrical system.
The company announced its plans for expansion in January at the 2012 North American International Auto Show.
At the time, Sung Hwan Cho, president of the technical center, said the news "reinforces Hyundai and Kia's commitment to U.S. vehicle development and American jobs."
Ann Arbor SPARK worked with Hyundai to help the company secure the more than $2.5 million in new business development incentives from the state and Superior Township, according to the release.
"The expansion of Hyundai's North American Technical Center here shines a light on the talent, business development and other unique assets that this region offers advanced engineering and research operations," said SPARK CEO Paul Krutko, in the release.
Lizzy Alfs is a business reporter for AnnArbor.com. Reach her at 734-623-2584 or email her at lizzyalfs@annarbor.com. Follow her on Twitter at http://twitter.com/lizzyalfs.