Posted on
Tue, Jan 10, 2012 : 1 p.m.
Hyundai will add 50 jobs after $15 million expansion to Washtenaw County technical center
By Nathan Bomey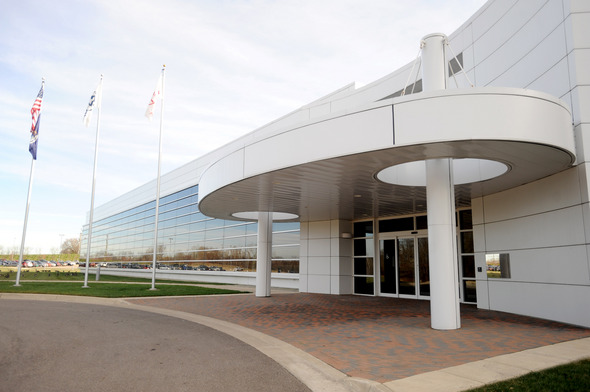 File photo | AnnArbor.com
The
Hyundai-Kia America Technical Center
in
Superior Township
plans to add 50 new jobs over the next three years in connection with a $15 million expansion.
The expansion — which involves a new environmental chamber used for testing vehicles in extreme temperatures — is contingent upon the approval of state incentives later this month, a generally routine step at this stage.
Hyundai's expansion plans — first reported by AnnArbor.com in October — weren't official until the company's chairman signed off recently, officials said.
"This investment ... in Michigan reinforces Hyundai and Kia's commitment to U.S. vehicle development and American jobs," said Won Suk Cho, president of the technical center, in a statement. "Investing in our locations, products and people is critical to Hyundai and Kia's ability to compete with the best in the business. Hyundai and Kia are committed to doing everything it takes to work with its partners, including the state of Michigan, to be competitive in the marketplace."
Hyundai already employs about 170 workers at the facility, which conducts powertrain testing, calibration and some general engineering and design activities for Hyundai vehicles. For example, the tech center conducted some work on the redesigned Hyundai Elantra, which was named North American Car of the Year on Monday.
Central to the company's expansion is $2.5 million in capital to be provided by the Michigan Economic Development Corp.'s Michigan Strategic Fund. Those funds will be repaid over time using tax dollars from a Local Development Financing Authority (LDFA) recently established by the Superior Township Board of Trustees in consultation with economic development group Ann Arbor SPARK.
SPARK CEO Paul Krutko said the Superior Township board agreed to abate 50 percent of the property taxes associated with Hyundai's expansion and keep 25 percent for itself. The other 25 percent will be delivered to the Michigan Strategic Fund over time to repay the costs of an electrical system upgrade Hyundai desperately needed.
Krutko described the funding structure as a creative model that meets Hyundai's needs and could set the stage for similar economic development strategies throughout the state.
"We're really excited about the project," Krutko said. "We think with this one we've figured out the direction the state was moving in and actually were able to pull together a company, a political jurisdiction and a state to come up with a proposal."
Since opening its 200,000-square-foot technical center on Geddes Road in 2005, Hyundai has had numerous electrical problems at the facility. Because it uses sensitive testing equipment like a dynamometer, the facility is prone to electrical outages when current fluctuates — which also causes problems for the company's network infrastructure.
Hyundai had indicated that it would not launch an expansion without a reliable electrical system.
To win Hyundai's expansion, North Carolina offered free land and energy rebates from utility Duke Energy, while Alabama — where Hyundai's U.S. manufacturing facility is based — also constructed an offer, Krutko said.
Krutko said it was particularly important to win Hyundai's expansion because it adds to a "very intense clustering of automobile R&D" in the Ann Arbor area.
Although it's important to simultaneously pursue the diversification of the Michigan economy, "it's clear that we have, as a region, strengths and assets that you always want to continue to build on," Krutko said.
The expansion comes during a period of intense growth for Hyundai, which is having a hard time keeping up with demand for its vehicles.
The company's retail sales rose 29 percent in 2011, compared to about 10 percent for the entire industry.
"Hyundai got where we are by being an outstanding value brand," Hyundai Motor America CEO John Krafcik said Monday. "Today we're becoming something more in the eyes of our customers: a valuable brand."
Hyundai has also met with the Washtenaw Area Transportation Study group to discuss an expansion involving a test track of some kind, officials recently told AnnArbor.com. But a test track — which would require much more land than the 140 acres Hyundai's technical center owns — is not part of today's announcement. The company already performs some driving tests at the 3,850-acre Chrysler proving grounds in Chelsea.
Contact AnnArbor.com's Nathan Bomey at (734) 623-2587 or nathanbomey@annarbor.com. You can also follow him on Twitter or subscribe to AnnArbor.com's newsletters.