Posted on
Sun, May 16, 2010 : 6 a.m.
Investors concerned FDA changes could undermine medical device investments
By Nathan Bomey
Michigan venture capitalists are keeping a watchful eye on regulatory changes at the U.S. Food and Drug Administration even as information technology is injecting innovation into the medical device industry.
Experts gathered last week at the Michigan Growth Capital Symposium said uncertainty about pending changes at the FDA could alter investment strategies.
"You have products with increasing complexity going through a regulatory system where the pendulum has swung way over to the safety side," said John Neis, managing director of Venture Investors, which has an Ann Arbor office. "It's much more difficult to get products through."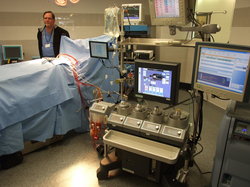 Nathan Bomey | AnnArbor.com
The FDA is said to be considering placing additional regulatory requirements on medical device companies, an industry that is creating jobs for the Ann Arbor region.
Device firms like HandyLab, which was acquired last fall for $275 million by Becton, Dickinson and Co., and Accuri Cytometers, which topped $10 million in revenue in 2009, are among the companies that could be impacted by new regulations.
"The FDA is a big risk for all of us in health care," said Jan Garfinkle, managing partner of Ann Arbor-based VC firm Arboretum Ventures, which invested in HandyLab and Accuri. "We're not sure what it's going to mean."
Complicating the equation is uncertainty about how federal regulators will approach new health care technologies like remote monitoring and diagnostics - areas that are quite attractive to investors.
"We're now inventing technologies and approaches to health care and health maintenance where there (is no precedent)," said Laura Heisler, director of programming for the Wisconsin Alumni Research Foundation. "The FDA just hasn't seen (those technologies) before. Guidance documents, for example, don't exist for a lot of these things."
Several investors said they prefer to fund life sciences companies whose medical devices are classified under the 510(k) category. Under that group, companies must notify the FDA in advance of their device hitting the market, but they don't have to get preapproval before selling the device.
Changes to FDA regulations could alter investment strategies, but that doesn't intimidate Immanuel Thangaraj of global VC firm Essex Woodlands Health Ventures.
"We will eventually see clarity with what's going on at the FDA," he said. "It will no doubt be more challenging but when we figure out what that path is, we'll figure out a way to bring back innovation."
Contact AnnArbor.com's Nathan Bomey at (734) 623-2587 or nathanbomey@annarbor.com. You can also follow him on Twitter or subscribe to AnnArbor.com's newsletters.