Posted on
Sun, Oct 17, 2010 : 7:05 a.m.
IT security growth at Barracuda Networks, Arbor Networks illuminates opportunity for Ann Arbor
By Nathan Bomey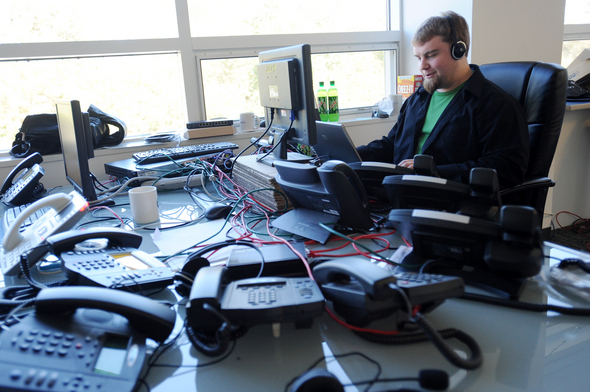 Melanie Maxwell | AnnArbor.com
Sean Heiney
stepped off a charter plane in Houghton - 542 miles from his office in Ann Arbor - and stopped to take a call from a reporter.
Heiney, director of new product initiatives for California-based IT security firm Barracuda Networks, is traveling to the far corners of Michigan to import security talent to Ann Arbor - all in an effort to keep up with Barracuda's brisk hiring plan.
The firm is hiring about 10 new employees per month for its Ann Arbor office, which now employs 90 to 100 workers, representing the company's largest presence outside of its corporate headquarters in California.
"We're actually, for the first time, looking outside the greater Detroit and Ann Arbor region, just because we have so many slots to fill," Heiney said. "We're having to look a little farther than the immediate area right now."
Barracuda's growth mirrors similar momentum at University of Michigan spinoff firm Arbor Networks, which was sold in August to Plano, Texas-based Tectronix Communications.
The consistent growth at Barracuda and Arbor illustrates the economic potential of the IT security sector for the Ann Arbor region, which can count on U-M's computer science engineering program to continue delivering fresh talent.
The network systems and data communication industry is considered Michigan's fastest growing sector by percentage of job growth, according to a report by the Michigan Department of Energy, Labor and Economic Growth. DELEG estimates that the number of jobs in this industry will increase 38.2 percent a year from 2006 to 2016.
Tectronix plans to add 30 jobs to Arbor's 90-person research-and-development headquarters in Ann Arbor by the end of 2011.
"They value Ann Arbor as a center of excellence certainly for IT and security," said Rob Malan, Arbor Networks' co-founder and chief technology officer. "We continue to be able to pull really high-quality talent from a local pool as well as attract it form all throughout the country to relocate here."
Melanie Maxwell | AnnArbor.com
Barracuda, Arbor and NetEnrich, another California startup with an Ann Arbor office, represent most of the job growth in the region's network security sector.
Meanwhile, the area's security leaders are starting to invest in R&D to develop mobile security applications, which represents the next wave of opportunity for the industry.
Scio Security, a startup led by Ann Arbor entrepreneur Dug Song and U-M doctoral student Jon Oberheide, recently raised $1 million in seed capital to develop a platform to improve the security of Internet transactions on mobile devices. The company, which has been reluctant to discuss specifics about its strategy, reportedly landed its first customer within two months of launching a year ago.
Demand for cybersecurity technologies is expected to drive further job growth for the Ann Arbor region over the next several years as corporations invest in technology to keep their data safe and as the government seeks to protect itself from foreign attacks.
In 2009, 75 percent of government agencies and private and public companies reported some kind of cyber attack, according to Symantec State of Enterprise Security Report 2010.
"This increases the importance of reputation-based security techniques and other technologies that act to catch malicious code," Symantec said in its report.
Barracuda and Arbor don't release revenue figures, but both are benefiting from investments in IT security. Barracuda provides web filtering products and monitors network attacks 24 hours a day, 7 days a week from its Ann Arbor office on Depot Street.
Arbor's network security software monitors network traffic for more than 70 percent of the world's Internet service providers.
The opportunities presented by mobile security, network systems and global cybersecurity issues will be discussed Tuesday at the SUMIT_10 conference at U-M.
A key theme of the conference is the influence of smart phones and other mobile devices on the security industry.
IT security consultant Charlie Miller, who is credited with becoming the first person to hack Apple's iPhone, plans to speak about the mobile security opportunities and challenges at the conference.
Miller said major corporations don't yet dominate the emerging mobile security market like they dominate the antivirus market for personal computers.
"It's really new. There's not a lot of established players," he said. "One of the things you need to realize is your smart phone, your mobile phone, is less like a phone and more like the computer you use every day. It has the same sort of weaknesses computers have."
As more users access their bank accounts through their phones and conduct various transactions from their mobile devices, hackers will devote more attention to attacking mobile devices, he said.
Miller predicted that within a few years, most mobile phones would be equipped with security software.
Mobile security is expected to become a $4 billion industry by 2014, according to ABI Research, which also projects that advanced security software will protect five times as many smart phones in 2014 as it does today.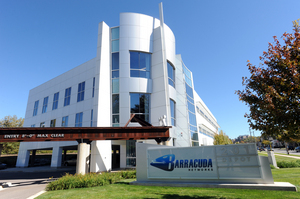 Melanie Maxwell | AnnArbor.com
Malan said Arbor Networks is shifting more of its R&D focus to mobile security as Internet users increasingly access the Web through wireless devices.
"We're moving hard at trying to protect that mobile data network. We've traditionally been more focused on fixed-line Internet protection and data center protection, but we're charting that path toward more of a mobile data protection," Malan said. "What's happened over the past two or three years is there's been a much lower barrier of entry for somebody that wants to hack on that mobile infrastructure."
Heiney said a wave of investment in mobile security would benefit Barracuda's e-mail filtering, spyware detection and network monitoring services.
"Mobile clients are enabling more and more web-based applications for a lot of platforms, so we're seeing a growth in that business," Heiney said.
Barracuda's fast-paced growth means new jobs for software development engineers, quality assurance engineers, tech support specialists and product leaders. The firm is hiring entry-level employees and workers with decades of experience.
"The quality of hire we're getting in Ann Arbor is one with a great work ethic, very intelligent and extreme value to the company," Heiney said. "We're going to continue to hire and build Ann Arbor as our largest R&D center outside Silicon Valley."
Contact AnnArbor.com's Nathan Bomey at (734) 623-2587 or nathanbomey@annarbor.com. You can also follow him on Twitter or subscribe to AnnArbor.com's newsletters.