Posted on
Sun, May 19, 2013 : 4:40 p.m.
Joseph T. Lovell, owner of Tidy Tom commercial cleaners, prized giving back, hockey
By Sven Gustafson
When the hockey league where Joseph T. Lovell played adjusted its membership classification to 60 and over to reflect its aging rosters, some of the upstart players apparently didn't get the memo that checking was no longer allowed.
"They'd have to tell them to quit it because they didn't need anybody breaking a hip," Lovell's niece, Kristin Pedersen, said Sunday.
Lovell, the owner of commercial cleaning service Tidy Tom, and who was better known to friends and associates as J. Thomas Lovell, died Saturday at his home in Chelsea after a long battle with brain cancer. He was 67.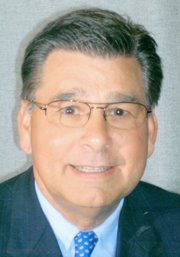 Lovell's cleaning and supply business has been in operation since 1972, when he launched
B&L Janitorial Supply
with Rick Buhr, who would go on to become owner of Good Time Charley's and
Banfield's Westside Grill
. Tidy Tom still services the
Nickels Arcade
, one of its original clients, said
Betsy Lovell Blackmon
, Lovell's sister and a one-time partner in the business.
The lifelong athlete — he was a member of the 1962 state champion Ann Arbor High School football team, and Lovell ran in every Dexter-Ann Arbor Run since its inception through 2011 — continued to run Tidy Tom until about six months ago, Pedersen said. His wife, Marsana, will take over reins at the company.
"He was a poet but not many people knew," said Pedersen, who works in advertising sales for AnnArbor.com. "He enjoyed life and people, and anybody who met him felt like they knew him forever. It didn't matter if you were a janitor who worked for him or a corporate person; he treated everybody the same, with respect and dignity."
Pedersen said her uncle liked to write poems on a wide variety of topics and whenever his muse struck.
"He'd write them on the back of an airline ticket, he'd write them on sticky notes. I have one written on a bar napkin," she said.
Lovell originally intended to follow his father's footsteps as an electrician, Blackmon said. Their father owned Electric Service Co. in Ann Arbor, Blackmon said. Lovell went into an electrical apprentice program to follow in his footsteps, attending the International Brotherhood of Electrical Workers 252 trade school and receiving a Journeyman's and Masters Electrician License.
He spent a year deployed in Vietnam during the war as a member of the U.S. Navy Seabees, a construction battalion. When he returned, and while attending college, he started cleaning commercial buildings to help pay for classes —Â a job that morphed into B&L, Blackmon said.
Lovell bought out Buhr in 1978, but the two remained close friends, Blackmon said.
Lovell graduated from Eastern Michigan University, where he majored in accounting and business. Over the years, he became active with the Ann Arbor Downtown Kiwanis Club, and he was one of the original investors in Ann Arbor State Bank.
"He was very much committed to the downtown Kiwanis and raising money for Mott (children's) hospital," Blackmon said. "The Kiwanis and the whole thing that Kiwanis stood for was extremely important to him. We did bell ringing for years and we still do."
Lovell also had a lifelong love for the sport of hockey and played for years on a rec-league team sponsored by Stroh's beer.
"His one friend, they've played hockey together since they were 5 or 6. He's coached his son's hockey team for a while too," Blackmon said.
Lovell and his wife also kept horses on their property in Chelsea. He took members of his family horseback riding on a ranch in Wyoming for his 60th birthday, Blackmon said.
In October 2010, Lovell was diagnosed with an inoperable brain tumor and given six months to a year to live. Doctors credited Lovell's high level of physical fitness for his ability to outlast their prognostications, his relatives said.
Lovell is survived by his wife, Marsana, and son, Brandon Lovell.
A funeral service is scheduled for 1 p.m. Thursday at West Side United Methodist Church in Ann Arbor. Visitation will be held Wednesday from 2-4 p.m. and 6-8 p.m. at Staffan-Mitchell Funeral Home in Chelsea.