Posted on
Mon, Apr 22, 2013 : 5:58 a.m.
Kerrytown Place developer submits site plan for 19-unit condo project on North Main
By Lizzy Alfs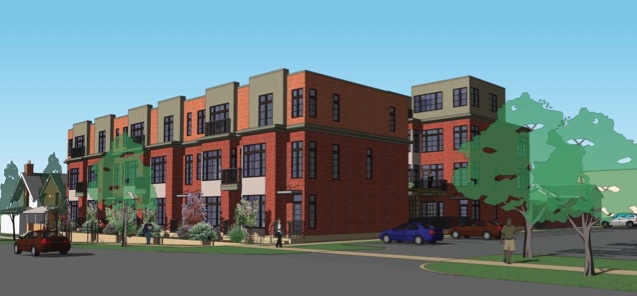 Rendering by Robert Latsko
Making official his plans to build a 19-unit condominium project on North Main Street, Ann Arbor developer
Tom Fitzsimmons
submitted a site plan to the city of Ann Arbor last month for
Kerrytown Place
.
The roughly $10 million project proposed for 414 N. Main St. consists of a three-story, nine-unit townhouse building fronting North Main, a four-story, eight-unit townhouse building along the mid-block alley, and a two-story, two-unit townhouse building fronting North Fourth Avenue.
Submitting a site plan is part of the city's multi-step approval process. Ann Arbor's Design Review Board reviewed the plans in February, and then Fitzsimmons held a citizen participation meeting in March.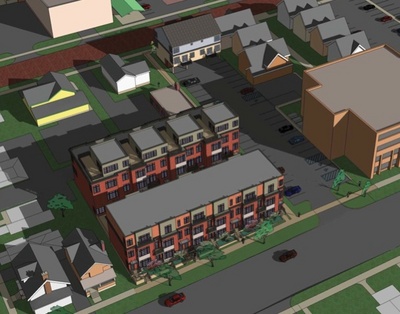 Rendering by Robert Latsko
Next, the plans will go before Ann Arbor's Planning Commission followed by City Council for approval.
"The target market for this development is young professionals and empty nesters desiring convenient housing close to the Kerrytown, the downtown and the university. This project is ideally positioned to meet this need," the application says.
"In general, the improving housing market has resulted in an increased demand for the type of housing proposed for this site. In addition, the market housing convenient to Kerrytown and the downtown has proven to be particularly strong," it continues.
Fitzsimmons, owner of Huron Contracting LLC and the developer of dozens of Ann Arbor homes and condos, purchased the North Main Street property for $610,200 at a tax foreclosure auction last year. The project replaces what originally was planned for the site in 2006: an 11-story, mixed-use building called The Gallery.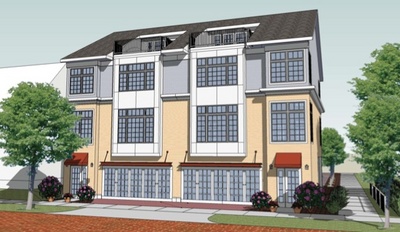 Rendering by architect Chris Allen
Because the property was zoned as a planned unit development with The Gallery project, Fitzsimmons is requesting a D2 zoning with a maximum allowable building height of 60 feet.
All of the condos will be marketed for sale, and Fitzsimmons said the prices for the condos could run from $300 to $325 per square foot. Because they're different sizes, prices could range between $400,000 and $1 million.
The upper levels have balconies and there is a shared courtyard between the two larger buildings.
Parking is provided in the basement of the buildings and under a second-level overhang, and each unit would include two parking spaces. The property has an easement with neighbor McKinley Inc. for 57 parking spaces, which was agreed upon when The Gallery project was proposed.
Related coverage:
Lizzy Alfs is a business reporter for AnnArbor.com. Reach her at 734-623-2584 or email her at lizzyalfs@annarbor.com. Follow her on Twitter at http://twitter.com/lizzyalfs.