Posted on
Thu, Mar 25, 2010 : 6 a.m.
Kroger seeks to add gas station near Carpenter Road store in Pittsfield Township
By Paula Gardner
Kroger's national plan to pair gas stations with its grocery stores soon may be visible locally at the Carpenter Road store in Pittsfield Township.
The Cincinnati-based grocery chain received preliminary approvals to add a gas station at the store, located between Packard and Ellsworth in the Carpenter Plaza shopping center.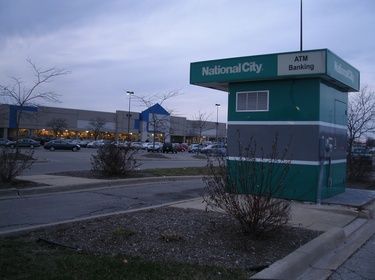 Paula Gardner | AnnArbor.com
The location, said township planner Paul Montagno, would be an outlot north of a retention pond in front of Home Depot, replacing an existing National City automatic teller machine.
The preliminary plans called for building five two-sided pumps and a 115-square-foot kiosk.
The kiosk will house an attendant and some convenience store-type merchandise, Montagno said, "but it's not a store where you can go in."
Kroger is turning to gas station development at its newer stores and is beginning to add the stations where it's possible near existing stores.
"They did note that this is what Kroger is doing nationally," Montagno said. "They listed many different Kroger sites that have done this an they claim to have good success."
About one-third of over 2,500 Kroger stores across the U.S. have gas outlets, generating about 10 percent of its $7.2 billion annual revenue, according to corporate reports. The company also announced a partnership with Shell this year to pair Kroger fuel rewards with existing gas stations.
"The plan is to grow fuel centers as fast as we can (in Michigan)," said Dale Hollandsworth, Kroger's consumer communications contact for the state. Thirty are now operating, with another in Shelby Township set to open this spring.
The gas stations complement the grocery outlets because the chain pair promotions between the two. One example: A promotion at the Mid-Atlantic stores lets loyalty-card customers who spend $100 in a calendar month receive 10 cents per gallon discount in a single fuel purchase.
Still, profit margins at gas stations are slim, especially in Michigan, according to industry experts. Several local stores have closed in the past year as statewide sales fall. Others turn to convenience store and fast food co-locations to boost revenue.
Kroger is redrawing plans for the gas station based on feedback from officials and still has to file for final site plan approval, Hollandsworth said.
Part of the plan will include some changes to the traffic patterns in the parking lot, Montagno said.
Unclear is the impact the new station would have on the existing fuel market in the vicinity of the store. A Speedway operates at the north end of the same parking lot, and Mejier Inc. operates a gas station at the corner of Carpenter and Ellsworth near its superstore there.
Two other nearby gas stations have closed: One at Packard and Carpenter and another at Carpenter and Washtenaw.
Gas sales in Michigan are down 17 percent from 2004, according to the Michigan petroleum industry.
Kroger's move to add fuel centers fits into that changing retail landscape, Hollandsworth said, by capitalizing on an existing customer base and customer loyalty program.
"The face of fuel centers are changing today," he said. "…This is another dynamic in the industry."
Paula Gardner is Business News Director of AnnArbor.com. Contact her at 734-623-2586 or by email. Sign up for the weekly Business Review newsletter, distributed every Thursday, here.