Posted on
Mon, Sep 2, 2013 : 12:32 p.m.
Labor after Right-to-Work: 'Let's take a look at the base'
By Ben Freed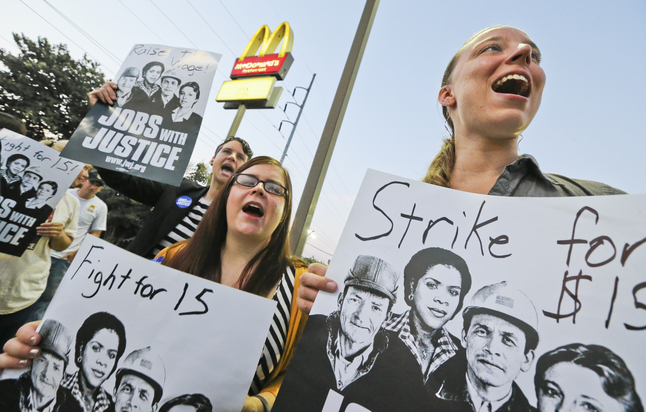 John Spink | AP File Photo
It has been a difficult year for labor unions in Michigan.
On Labor Day in 2012, organized labor was riding high on news of increased employment and union membership, the "Protect Our Jobs" ballot initiative had been approved by the Board of State Canvassers and picket lines in Washtenaw County had been unnecessary for more than two years.
Since then, the wind has been taken out of union sails the by the failure of Proposal 2 and passage of right-to-work laws in states across the country, including Michigan.
"Labor as an institution can become weakened because of changes in politics, and the evidence is that they are very much linked to politics," University of Michigan labor research scientist Roland Zullo said.
But — he added — that doesn't mean labor is going away.
"When that happens is you see more of a resurgence in 'labor the movement,' or labor agitating with workers acting in less organized forms."
'Labor the movement' has been evident over the past year largely in the form of high-visibility protests and picketing at companies that do not negotiate their contracts with established unions.
"We're seeing a rise of worker organizations that are not tied to nationally sanctioned institutions," Zullo said. "They don't follow the conventions of labor law, and they push the boundaries in other ways."
Workers at Wal-Mart stores and fast food chains across the country have been protesting low wages, with fast food workers recently picketing several locations in Michigan demanding a near doubling of their hourly rates.
"They use disruptive tactics, they generally have very few demands but they use disruptive tactics to press those demands and that's what you're seeing right now at the restaurants," Zullo said.
"That form of attempting to deal with grievances in the workplace tends to emerge when you make it more difficult for workers to form bona fide unions."
Despite difficulty of forming unions at big box stores and restaurants, the grassroots organizers often get logistic and even financial support from unions that are shifting their focus. Zullo said that help often comes even though employees and organizers have no intention of even attempting to join the established unions.
"When you have strong unions out there negotiating terms and conditions across whole industries like what we had from the 1940s through the 60s, the general strategy is that they want to set a high standard of decent wages and safe working environments that other people reach towards," he said.
"When union institutions as we think often think of them are weakened, the strategy changes. Instead it becomes, 'let's take a look at the base, the workers really at the margins and try to lift those folks up.'"
The workers on the margins are often found in industries that have traditionally been extremely hostile to labor organization. Zullo said that United States labor laws allows for "concerted actions" by employees regardless of whether there is a union in place or not.
"So if I'm in a non-union setting and I walk up to the boss and I demand a raise, that's not concerted activity because it's just for me," he said.
"But, if I walk up to the boss and say we're all hurting here we all need a raise, that's considered concerted and I'm protected and cannot be fired for that act."
Non-union activists have been using this protection to plan and execute their protests, though Zullo said many of them are also harnessing a "can't get any worse" attitude to spur their picketing.
"Part of what gives these restaurant workers the audacity to work for almost a double wage is the fact that they don't feel that much risk," he said.
"… They know the employer needs them, and at seven or eight dollars an hour that it's very difficult for employers to find people who can come in and do the same work at that wage. There's not much to lose at that point for them."
According to a Labor Day study from the Michigan League for Public Policy, employees in Michigan not in the top 10 percent of wage earners have reason for their pessimism.
While the state's unemployment rate has dipped to 8.4 percent, the study found that workers in Michigan have seen the largest decrease in median wage of any state in America since 1980.
Zullo said that the wage stagnation has less to do with union participation, and more to do with the types of jobs available to Michiganders.
"If you want a society that confers upon workers strong wages and strong benefits, workers have to be engaged in value added activity," he said.
"They have to be taking something, whatever it is that they do, and creating substantial value. And it doesn't matter if they're union or not.
"In Michigan we've traditionally had the auto industry. Workers take steel and glass and rubber and plastic and make it into a product that fetches a strong price on a market. It's the ability for them to do that that allows for the wages paid. It doesn't matter if the workforce is union or not but the value added by the workers have to be there."
Between 2000 and 2010, Michigan lost 46 percent of its manufacturing jobs, and according to the MLPP report, two of the top three jobs in the state are now 'retail salesperson' and 'cashier.'
Zullo said that moving forward, unions will likely look to continue their role in the non-union organization of employees in service sector and other lower-wage jobs.
"It all goes back to the shift in strategy," he said. "They went from trying to create a model that everyone would reach for to directly lifting up the base."
Ben Freed covers business for AnnArbor.com. You can sign up here to receive Business Review updates every week. Get in touch with Ben at 734-623-2528 or email him at benfreed@annarbor.com. Follow him on twitter @BFreedinA2