Posted on
Thu, Sep 23, 2010 : 11:15 a.m.
Landlords await word on whether Blockbuster bankruptcy will close Ann Arbor area stores
By Paula Gardner
Local impact from Blockbuster Inc.'s bankruptcy filing this morning won't be known for at least a month, local landlords said this morning.
The Chapter 11 bankruptcy filing called for the troubled video rental chain to keep its 3,000 stores and kiosks open while it reorganizes.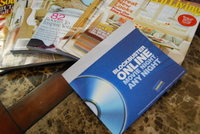 Source: Blockbuster Inc.
However, it also will be evaluating those stores for ongoing viability as the chain - and its industry - grapples with technology shifts and new business models, like Netflix, that are changing consumer habits.
Local Blockbuster landlords said the bankruptcy has been expected for several months.
"We'll wait and see what happens," said Chris Grant, vice president of First Martin Corp. The company leases a 7,000-square-foot store to Blockbuster in Traver Village on Plymouth Road.
"They're going to be closing some stores," Grant said. "But we haven't been in touch with anybody about that yet."
Other area Blockbuster stores are located in Woodland Plaza, 2248 S. Main, in Ann Arbor; 2547 Ellsworth in Ypsilanti Township; 1305 E. Michigan Ave. in Saline and 1145 S Main St. in Chelsea.
The bankruptcy filing asks a federal judge to approve the reorganization plan that includes an investment of $125 million in financing after bondholders exchange $1 billion in debt for equity in the restructured business.
"After a careful and thorough analysis, we determined that the process announced today provides the optimal path for recapitalizing our balance sheet and positioning Blockbuster for the future as we continue to transform our business model," said CEO Jim Keyes in the filing.
That level of investment indicates that Blockbuster may depend on its store locations to drive business while it shifts distribution methods, experts said.
Tom Goldberg, an owner of Woodland Plaza, agreed with Grant that the filing was predictable.
"Anyone who's in our business was of the opinion that it would an event that would happen sooner or later," Goldberg said.
Under bankruptcy law, Blockbuster now can accept or reject all of the company's leases.
"Then they'll either continue under the terms of the lease or terminate," Goldberg said.
Blockbuster locations tend to be high-profile retail spaces in high-traffic locations, he added.
While waiting for the chain's real estate representatives to make contact, Goldberg has been starting to seek a potential replacement tenant for the store at the corner of South Main and Ann Arbor-Saline Road.
"There are no discussions going on, but we're pretty confident if we get the space back, we'd be able to lease it to good tenants reasonably promptly," he said.