Lansing-based church looks to purchase former Mighty Good Coffee roasting location
Posted on Thu, Jul 7, 2011 : 1:44 p.m.
A Lansing-based church wants to convert the former Mighty Good Coffee roasting operation on Huronview Boulevard into a new church.
The property, located at 200 and 202 Huronview Boulevard just off North Main Street, has been vacant since owner David Myers consolidated his Mighty Good cafe and roasting operation into a single location at 217 N. Main St. in fall 2010.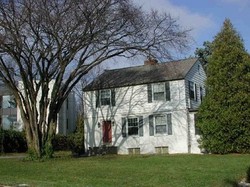 Photo from rofo.com
The Center of Light Christian Spiritual School plans to convert 202 Huronview into a 50-seat church and 200 Huronview into a parsonage, according to city records.
The church is asking for a special use exception from the Ann Arbor Planning Commission, which will consider the request at its meeting tonight.
The site includes a 2,468-square-foot house and a barn that is less than 1,000 square feet.
The Rev. Lela Iduna said the Center of Light started leasing the buildings in early June but hopes to purchase the property by the end of the month if the special exception use is approved.
The Ann Arbor Center of Light is a satellite location for the Lansing-based church, which was started in 2007. Since 2008, Iduna has been holding services at various locations in Ann Arbor, including the Body Mind Spirit Wellness Center on South State Street.
"We needed a bigger place," she said. "We need a place that could be dedicated for the spiritual center that is big enough for people to gather and the community to be together."
Iduna said that the property will require few renovations — just some painting and cleaning of the space.
"This is a wide open space, which is what we needed," she said. "We love this new location. We are very excited to be here."
Jim Chaconas of Colliers International, the real estate company that listed the property, said that he anticipates the church being a good use for the former roasting operation.
"It's kind of neat to take something that was a coffee factory to convert into a church," he said. "It's a nice redevelopment and good for the community."