Posted on
Thu, Nov 8, 2012 : 5:58 a.m.
LectureTools is second U-M startup acquired in 1-month period
By Ben Freed
Another Ann Arbor-based startup has attracted the attention and interest from a major company. Echo360, a Virginia-based innovative education company, announced Wednesday it had acquired University of Michigan spinoff LectureTools.
The acquisition comes on the heels of fellow U-M spinoff company Compendia Biosciences' purchase by California-based Life Technologies Corp.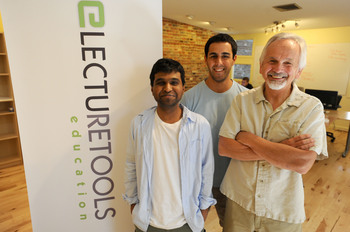 Angela J. Cesere | AnnArbor.com
U-M professor
Perry Samson
founded LectureTools, a web-based student response system that helps professors connect with students in the classroom, along with three recently graduated students. Echo360 acquired the company as it expands its specialization in "blended learning" technology that incorporates various multimedia elements to make traditional classroom learning more effective.
"We have done a lot with video technology, including using that to flip the way the lecture system works," chief marketing officer Richard Taylor said.
"Instead of sitting in class and watching a lecture, students can watch the lecture at home, come to class and can actually talk about it and what it means."
That program is one of many offered by Echo360, and Taylor said that he believes adding LectureTools to the company will allow it to go from blending to "active blending" as tools from the U-M spinoff are used to allow instructors to interact in real time with students using laptop computers, tablets, and cell phones.
Samson is no stranger to startup companies or major acquisitions. He was also a co-founder of Weather Underground, acquired by media giant The Weather Channel earlier this year.
LectureTools has a very close relationship with the university. Not only does it have faculty and alumni founders, but it also participated in programs in the TechArb student venture accelerator as well as the Venture Center housed in the North Campus Research Complex.
The ties run deeper still. When the technology developed by Samson was used to spinoff the company, U-M chose to acquire equity in the company as part of the licensing agreement. With the company's acquisition on Wednesday, that equity will be converted into revenue for the university.
Taylor said there are no plans to move LectureTools and its five current employees out of Ann Arbor, but there will be expansion efforts in Michigan.
"We don't have any active hiring efforts right now, but that [hiring] is the plan as the platform integrates into our existing programs," spokesman Gabriel del Rio said.
"We're going to need their expertise to help us do that, and since we're doing it on a big scale, it looks like we're going to need more help."
Samson was named head of educational innovation at Echo360 and also will continue his work at U-M.
"All five employees are now with us," Taylor said. "But we wanted [Samson] to have a title that would embody what he will be doing. We want him to continue innovating for us and coming up with new ideas."
Echo360's clients include The University of Virginia, New York University, University College London, and other prominent universities in America and overseas. Ken Nesbit, executive director of the U-M office of Technology Transfer said in a statement his office already has been in conversation with Echo360 about future partnership with the university.
Echo360 is a private company did not disclose terms of the acquisition.
Ben Freed covers business for AnnArbor.com. You can sign up here to receive Business Review updates every week. Reach out to Ben at 734-623-2528 or email him at benfreed@annarbor.com. Follow him on twitter @BFreedinA2