Posted on
Sun, Aug 5, 2012 : 5:58 a.m.
U-M football weekends at center of new home rental business in Ann Arbor
By Laura Blodgett
Ann Arbor homeowners looking to make a few extra dollars this fall can now seek out some help to rent their home during University of Michigan football weekends.
Courtesy Greenovation.TV
Rent Like a Champion, which was started in South Bend, Ind. in 2006 by three Notre Dame graduates, is now expanding to the Ann Arbor market. The company secures and lists local homes available for weekend rental and finds renters via its website
rentlikeachampion.com
.
"[We're] trying to find places with major football teams where there are not that many hotel rooms," said Mike Doyle, CEO of Rent Like a Champion. "U-M obviously was at the top of the list. With a stadium in town and the campus surrounded by homes, all the hotels aren't right there."
In Washtenaw County, about 3,300 hotel rooms usually are booked during football weekends, said Chuck Skelton, of Hospitality Advisors Inc.
In addition, he said football fans coming to the games will spill out in to Detroit and Jackson hotels. The past few years, however, not all football weekends were sold out, said Skelton, with occupancy rates holding at 95 percent.
Last year, Rent Like a Champion expanded to the home of Penn State University, and currently is launching in 12 other cities including Ann Arbor. In addition to football games, Rent Like a Champion hopes to book during other major events on campus such as graduation weekend.
The Ann Arbor website http://www.annarborfootballrentals.com was launched two months ago and allows people to list their house on the website for free. Six homeowners signed up in the first 2 months.
There are no requirements for a home to be listed, but the company said it does look for two factors to increase the likelihood the house will be rented out: distance to campus, as well as how many people can be accommodated in the house.
"If [a home] can fit 10 to 12 people within walking distance to campus, that's probably the most popular homes on the site," said Doyle.
Most properties rent anywhere from $1,000-$2,500 for the weekend depending on the size of the house, its location, and how big a game it is, said Doyle.
In addition, the income earned from home rental is tax free, according to Doyle, who said IRS code allows income from a primary residence rented less than 14 days a year to be tax free.
Once the home is listed, Rent Like a Champion handles all administration and marketing and charges 15 percent commission (with a $250 minimum), but only collects if the house is booked.
Although damage from a renter seems like a top concern for a potential homeowner, it hasn't been a problem, said Doyle. Although there is no screening process, renters have to agree to a rental contract that states the renter is responsible for any damage and releases a homeowner from any liability if anyone gets injured in the home.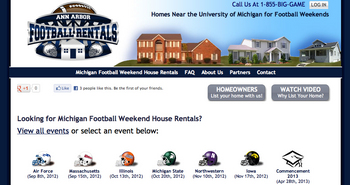 Rent Like a Champion puts $1,000 hold on the renter's credit card before check-in, similar to a hotel, which serves as a security deposit if any damage occurs.
"Most of the renters we've had at Notre Dame and Penn State have been alums coming back with their families," said Doyle. "We've had less than 5 percent incident rate. When we have seen [an incident] it's a very small issue, like a window broke, and less than $100."
Ann Arbor residents Matt and Kelly Grocoff heard about the program through a friend, a local professor who received an email about it, and decided to list their house.
Located at 217 S. Seventh St., the Grocoff's home is a green home that has been written up in AnnArbor.com, USA Today, This Old House and The Atlantic.
The pair owns a net zero energy consulting collaboration called Thrive as well as a TV production company and website called Greenovation. Matt Grocoff hopes renting his home also will give people an opportunity to experience these green features firsthand, in addition to earning the pair some extra money.
"It's a great deal," said Matt Grocoff. "If a family or several couples had to rent out a couple of hotel rooms, it would be $600 a night, plus you have to pay for parking and going out to eat. Here you have access to a full kitchen, barbecue in the yard and can walk over to the stadium."
The three-bed, two-bath 1,500-square-foot house is $1,500 per weekend, although Matt Grocoff plans to raise or lower the price depending on demand.
The South Bend website, which has been up and running for six seasons, currently lists about 100 homes. The company is focusing less on marketing to people in South Bend and has turned more efforts to fielding calls from interested homeowners in other areas, such as Ann Arbor.
"It takes a little while for people to get used to the idea of renting out their home for the weekend," said Doyle. "But once people become comfortable with the idea, homeowners have enjoyed the program and stick with it year after year. It's a way to earn quite a bit of additional income — some people can pay off their yearly mortgage with six or seven rentals a year."