Posted on
Tue, May 22, 2012 : 5:57 a.m.
Officials: University Research Corridor has $15.2 billion net economic impact on Michigan's economy
By Katrease Stafford
Local leaders and business developers met Monday at the ex- Pfizer location in Ann Arbor to discuss how Michigan's University Research Corridor, which the University of Michigan is a part of, has become an "economic engine" and a nationally recognized hub for research generated technology and small business development.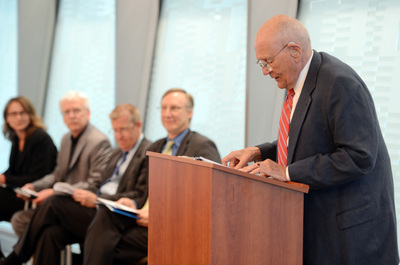 Melanie Maxwell I AnnArbor.com
In addition to the University of Michigan,
Wayne State University
and
Michigan State University
are part of the URC and together, the institutions have had a net economic impact on Michigan's economy of $15.2 billion, according to officials.
The institutions formed the URC to leverage their collective assets, encourage collaboration, and increase business partnerships, with the goal of accelerating statewide economic development.
According to a recent benchmarking report, the URC ranked fourth in U.S. patents granted, and fifth in invention disclosures, licenses and options granted, and licensing revenue -- which totaled $37 million -- when comparing its 2006-2010 average annual technology transfer activities with its peer university clusters. The URC is tied for fifth in number of start-ups it has helped to create.
"If the country is to do what
President Obama
suggested, which was to out-innovate, out-compete, and out-educate, this is the place that's going to do the things we have to have done in order to have success," said Congressman
John Dingell
.
Vice President for Research Stephen Forrest said he believes the university is on the "edge of an explosion in innovation."
"This explosion will drive the revitalization of the country and I think it will have ripple effects across the entire Great Lakes region and really the entire nation," Forrest said.
URC Executive Director Jeff Mason said that between the three institutions that make up the URC, on average they have produced one new company every month for the past five years.
"That is an indication of not only the innovation going on but the success that is coming out of these institutions," Mason said.
Kenneth Nisbet, executive director of U-M Tech Transfer, said that Michigan universities are contributing to the economy as never before. URC institutions conferred 18,277 high-tech and high-demand degrees which was more than any other university cluster except for Pennsylvania.
"Our researchers submit over 350 ideas a year or at the rate of one per day," Nisbet said. "We have launched more than 92 startups over the past 10 years for the average of one every five weeks."
Currently, the University of Michigan's Venture Accelerator, which is a place that provides state of the art labs, equipments and office spaces for new companies, has 17 tenants. The business incubator is located in the16,000-square-foot former Pfizer site in northern Ann Arbor. The university bought the building for $108 million in June 2009.
"It was launched in January of last year and the accelerator company is far ahead of schedule," Forrest said. "We already have a company that is about to graduate and open a space for the next in line."
In total, the start ups and those that have spun out have created more than 1,800 and counting, Nisbet said.
"It takes a while because when they start it is often with just a few people and they end up growing,' Nisbet said. "By planting roots here, they have the capacity to grow a lot and stay here in Michigan. We're close to capacity and we're amazed."
Nisbet said most of the start up companies have stayed in Washtenaw County but a few have located elsewhere such as Fusion Coolant which is now headquartered in downtown Detroit.
"They typically like to stay in the county because that's where the talent is but some have relocated," he said.
Nisbet said he believes the startups will contribute to job creation to the local area and on a state level as well.
"When these companies grow, they have suppliers and they look for talent so they're developing talent for the entire region and the entire state."
Forrest said the university has plans to work with Ann Arbor Spark to drive even more economic growth to the region.
"We're working to find new ways to bring the private sector here and to merge our efforts with them so that we can start an industrial park here in Ann Arbor that will be mostly based on technology," Forrest said. "Michigan has gained the recognition it deserves as a hot bed for technology."
3D BioMatrix CEO Laura Schrader said her company is growing at a fast rate. The company is one of the seventeen startups and specializes in selling 3-dimensional cell culture products for the drug discovery and testing market.
"We're a company that is growing," she said. "We're making sales and we have revenue now. We're selling from Korea to the U.K. to the United States to South America. We have distributors around the world."
Schrader said she has a staff of three full-time employees, two contractors and one summer intern. Schrader plans to hire more in the next six to nine months.
"For a small company, I think we have a pretty big impact on the area," she said. "People should believe that the process is working. We must encourage talent to stay here and grow here."