Posted on
Sun, Apr 22, 2012 : 5:59 a.m.
Local real estate market shows signs of warming up as average home sale prices increase
By Paula Gardner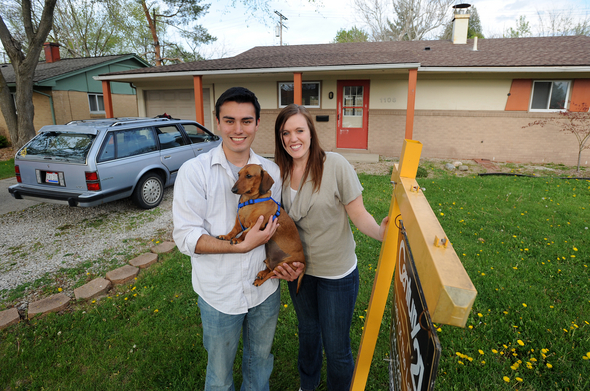 Melanie Maxwell I AnnArbor.com
Related:
Reinhart's record-setting quarter shows resiliency after recession
Haley Gire knew she'd buy a house in Ann Arbor since 2011, when she started researching the market and figuring out what she'd get for her $125,000 budget.
By the end of last month her trek had ended when she became a homebuyer, making an offer on March 30 on one of six houses that she visited with her real estate agent.
Of the six houses - seven if you count the one they only viewed from outside - she and her boyfriend, Takashi Gould, liked two of them.
"But one was perfect," she said of the home on North Maple that will become her first house when she closes the deal in May.
Gire is among the people who are shaping the local residential real estate market for 2012, at a time when sellers are hoping for continued price escalation, buyers are saying there isn't enough on the market and industry experts say the rebound should - emphasis on the conditional - kick into gear.
Among eight markets tracked in Washtenaw County, four now fit the real estate industry's definition of a "seller's market": Ann Arbor, Ypsilanti, the Lincoln school district and Milan.
But even within those markets there are price points that are slower to sell than the more active categories, showing how the circumstance of one house - with its price, likelihood of selling and how much value it's lost since 2005 - can be vastly different from another in the same area.
So far this year, based on first quarter numbers reported to the Ann Arbor Area Board of Realtors, many in the industry expect a better year than 2011: Low interest rates, pent up housing demand and inventory shortages are fueling activity that, in turn, is at least stabilizing many prices if not increasing them, experts said.
"The market is firming up on prices," said Elizabeth Brien, agent at the Charles Reinhart Co. "(What will happen next year) is hard to say."
Price increases are registering in much of Ann Arbor, which showed a 3.57 percent increase in the sales price per square foot in 2011. That's one of five communities that showed an increase in 2011, but overall values remain less than 2006, when the market - and the national economy - started to change.
Many buyers "have been waiting to see where is the bottom of the market," Brien said.
Data reported to the Ann Arbor Area Board of Realtors through the end of March on average shows a local first quarter real estate market that's largely unchanged from 2011:
• Total home sales are down by 2 units to 593.
• Total condo sales are up by 12 units to 137.
• Dollar volume for homes went up from $104.6 million to $106 million.
However, some measures are showing increases:
• The median sales price is $149,000, up from $135,000.
• The average sale price is $178,903, up from $175,872.
But one of the most compelling changes, industry experts say, is the drop of new inventory coming onto the market: By the end of March, 84 fewer homes had been listed in 2012.
That's a situation that's pressuring the real estate industry - which is looking for sales gains after the recession - and buyers in the areas with the fewest available homes, prompting intense competition for some houses even as others may languish.
"The market is changing very quickly," said Matt Dejanovich, an agent at Real Estate One in Ann Arbor. "There's no question about that."
Dejanovich said there's a shortage of "quality" listings, or homes that are move-in ready and priced appropriately.
He said one recent listing in the Arbor Creek subdivision of Pittsfield Township, in the Ann Arbor Public Schools, drew five offers during its first weekend on the market at $339,900.
"That's an experience that I think every agent may be having at times," he said. "But it's certainly not every house that I list that's experiencing that. I don't want to overstate … the market. I have other houses that are pretty night and haven't sold yet."
Yet a year ago, Dejanovich said, that same house would have been priced at 7-8 percent lower, and it likely wouldn't have had the volume or pace of sales activity.
The price ranges in Ann Arbor at the end of March that could be called a seller's market based on the sales pace and available inventory were homes prices under $450,000 and those priced from $601,000 to $750,000, according to data from Reinhart.
That reflects 323 active listings in the Ann Arbor public schools, and 954 sales in the last 12 months.
The most active price range? It's from $150,000 to $200,000 - or the more affordable end of housing. Yet just one-tenth of a percentage point from that is the $351,000 to $400,000 price range - a price point that Realtors say likely points to pent-up demand for "move-up" housing and an indicator of return to market normalcy.
In Gire's price range, 2.6 months of inventory existed at the end of March.
The University of Michigan admissions counselor said she didn't feel pressure to make a quick decision as she worked with Realtor Shari Mueller of Reinhart. However, the number of homes on the market in her price range that needed extensive work made her realize that her pick - a foreclosure that she described as essentially move-in ready - was the right one immediately.
And a previous experience, when she was discouraged from making an offer because negotiations already were well under way with another buyer, made her realize that "we at least wanted to get an offer in if we liked it."
In her price range, "there were a lot of houses that needed some love to them, or some foundation work," she said. "If you're willing to do that, (the price was worth it)."
The Ann Arbor market has the most sales of any area in the county, so its changes drive much of the market. Yet based on listings and sales totals, some areas are still struggling: Saline is at an average 8.3 months inventory and Chelsea is at 9 percent, while Dexter is on the verge of the "sellers market" threshold at 6.8 months and Manchester is at 7.3 months.
Continued concerns in the real estate market include foreclosures and appraisals. Lenders face much stricter regulations, leaving deals facing much more scrutiny and also vulnerable to appraisals that may not have caught up with the price of the deal.
Repossessions still affect the market, too: Michigan ranks 8th nationally in the number of foreclosures, but the number fell from February, according to Realttrac. Locally, the number of sheriff's deed sales has fallen this year, while the number of delinquent mortgages in the U.S. is falling, giving some hope that the wave of foreclosures is waning.
Even the number of listings seems to point to the large loss of value recorded, on average, in Michigan's real estate, said Edward Surovell of Edward Surovell Realtors.
"Many people don't have enough equity to make a meaningful trade-up," he said. "And there's not a whole lot of corporate moving around."
What he's seeing is "many people may be feeling that now that the market is beginning to change that it may be better to wait a while (to sell)," he said.
The shortage of listings in Ann Arbor isn't unique to this community, he added. University towns across the U.S. are finding that core areas have fewer listings than normally found in a balanced housing market.
"Once people realize that prices are going up, it may induce more people to put their houses on the market, but that hasn't happened yet," Surovell said.
On the business side, Realtors are encouraging clients to list their homes, but also to make the kind of improvements that with make them fast sales. All year, they've said, they've waited for a surge of listings that, they say, could slow the price gains in solid markets and stall the potential of appreciation in slower ones.
By the second quarter, the pace of listings - and price changes - should be clearer, said David Lutton, president of Reinhart.
By June, he said, he believes the strength found in today's market will be more widely perceived, especially if unemployment rates stay under 6 percent in the county.
"If you're not in the market today, you're oblivious to these changes," he said. "… But now all the forces are in place to see prices move higher.
"We're probably at the threshold of two to three years of improvement."