Posted on
Thu, Jan 24, 2013 : 12:42 p.m.
Maiz Mexican Cantina restaurant opens in Pittsfield Township
By Katrease Stafford
A full-service Mexican restaurant and bar, Maiz Mexican Cantina, has opened on Washtenaw Avenue in Pittsfield Township, replacing the former Brahma Steakhouse & Lounge.
General manager Jason Branham said Maiz, 4855 Washtenaw Ave., opened Jan. 21. Branham, who has prior experience in restaurant conversion consulting, was approached about opening a restaurant by building owner Demos Panos. The Brahma Steakhouse & Lounge closed in January after being open for nearly a year.
"He informed me that this building space was available and he knew of my previous work and thought it would be a great concept to install at that location," Branham said.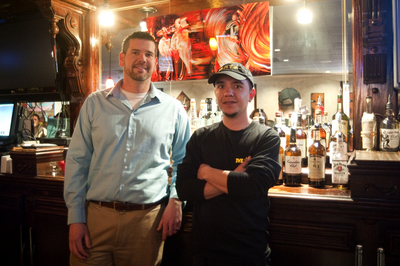 Joseph Tobianski | AnnArbor.com
The concept is one that will cater to an untapped demographic, Branham said.
"Based on our business plan research, we determined there was no full-service Mexican restaurant in this area," he said. "There are several in Ann Arbor and outskirts of Ypsilanti, but nothing in this general area."
Branham said he conducted a market analysis study to make sure the location was a good fit.
"There's a very large Hispanic community concentrated in that area as well as just dense population in general," he said.
Branham said some renovations have been done to give the 230-seat restaurant a more authentic feel. Branham hired Ypsilanti-based artist Danielle Murphy to create two murals in the restaurant.
"She's being commissioned to do an 8-foot-by-5-foot mural reflecting a Mexican street market," Branham said. "It's located in the lounge area, which is the bar area."
The other mural is above the fireplace in the dining room.
Some of the renovations, including new floors and a hand-carved wood bar, occurred under the Brahma ownership. Brahma owner Louie Vushaj invested nearly $100,000 in renovations.
"We wanted to build upon the building's history and keep the warm, refined looks of the wood and dark tones, but then we wanted to add a lot of energy and color to the space," Branham said. " We did that through extensive lighting renovations."
Multi-colored lights were added, creating a splash of colors on the wall. "It brings the traditional colors you would see in Mexican art," he said. "I've gotten tons and tons of great feedback on the decor."
Branham said 90 percent of Maiz's menu is under $10, which he hopes will attract customers looking for an authentic, yet affordable meal.
"My head chef is originally from Mexico and he's been fantastic in bringing in recipes he cooks at home with his family," Branham said. "Mexican food is very regional and we're trying to cover a lot of the flavors from across Mexico."
One signature dish, chili relleno, which consists of a stuffed, roasted, fresh poblano pepper, is proving to be an early favorite. All of the dishes are prepared from scratch and are made fresh daily.
"It's one of the things people have to try," Branham said. "Because the previous restaurant was doing smoked meats, that large commercial smoker came with the building and now we're utilizing that to introduce smoke into our food."
The Smokehouse Grill and Pub operated in the space for about 15 years. Before that, the location was home to Herc's Roast Beef restaurant.
Since the Maiz is one of a few bars on Washtenaw, a diverse bar crowd has already started to form, Branham said. The bar offers three Michigan microbrews on tap as well as other beers. Several styles of margaritas, cocktails and martinis will be offered as well as Mexican beer.
The restaurant has 26 employees, some of which are former Brahma employees. Branham said he may potentially add more depending on sales.
"I retained almost everyone on staff," he said. "No one lost their job over this and not only did I retain staff, but I've doubled the size. As we grow and expand into our lunch service and get busier, I plan to be hiring additional staff."
Beginning next week, the restaurant will offer a full-sevice lunch and dinner menu.
"I've talked to my staff and said people are going to be surprised when they get their food because it doesn't look like regular run-of-the-mill Mexican food," Branham said. "The food is going to be as beautiful to look at as it tastes. ...The feedback on the flavors has been overwhelming so far."
Katrease Stafford covers Ypsilanti for AnnArbor.com.Reach her at katreasestafford@annarbor.com or 734-623-2548 and follow her on twitter.