Posted on
Fri, Feb 3, 2012 : 5:59 a.m.
The Smokehouse Grill on Washtenaw Avenue to become an 'affordable' steakhouse after sale
By Lizzy Alfs
Chris Asadian | AnnArbor.com
The Smokehouse Grill and Pub
on Washtenaw Avenue will soon become the
Brahma Steakhouse & Lounge
after the business was recently sold.
New owner Louie Vushaj is currently renovating the long-time Pittsfield Township restaurant, located at 4855 Washtenaw Ave., and hopes to unveil the new concept March 1. The business will remain open during the renovations.
Vushaj recently purchased the restaurant from former owner Demos Panos. He said a deal is being finalized to purchase the property as well.
Vushaj estimated the cost of the deal would total about $1 million, including more than $100,000 spent on remodeling.
According to township documents, the property's assessed value was $554,800 in the 2010 tax year, making its estimated market value about double that.
The restaurant was put on the market in 2010 because Panos said his family was preoccupied with running its other businesses, including Nick's Original House of Pancakes on Lohr Circle in Pittsfield Township. His wife, Helen, runs Village Kitchen in the Maple Village Shopping Center in Ann Arbor.
Panos had invested in some light remodeling in June 2011, when he told AnnArbor.com the restaurant was performing well. He also changed the name from The Smokehouse Blues Bar and Grill.
Vushaj, who has known Panos for years, said he was just ready to retire.
"You age out of business, that's how life is," Vushaj said.
Now, Vushaj — who has been in the restaurant business since he was 13 years old — plans to transform the restaurant into a more modern steakhouse, named Brahma Steakhouse & Lounge.
"Brahma promises to be Ann Arbor's premier steakhouse," according to the restaurant's Facebook page. "At Brahma, we pride ourselves in exceptional quality and tremendous service, at a price everyone can afford."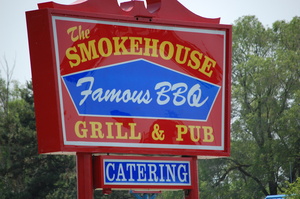 Janet Miller | For AnnArbor.com
Renovations include installing hardwood floors and new booths, painting and refinishing the bar.
It will still seat approximately 230 people, and Vushaj is keeping the employees from The Smokehouse Grill, in addition to hiring a few new ones.
"We're in the process of bringing in a very well-known chef, but I can't reveal who yet," he said.
The menu will consist of steaks, fish and pasta items, and will be in the $10 to $20 range.
"My belief in the restaurant business is this: If I'm not going to eat it, then I'm not going to serve it to you," he said.
Before Smokehouse opened about 15 years ago, the location was home to Herc's Roast Beef restaurant.
Vushaj said both Herc's and Smokehouse did "tremendous business" — one of the reasons why he decided to purchase the restaurant.
"I'd say I surveyed 80 percent of the state before choosing this," he said. "Ann Arbor could be considered the capital of the state."
As the uncle of local business owner Sava Lelcaj, Vushaj said he's hoping to channel the momentum he's seen at Sava's Restaurant on South State Street in Ann Arbor.
"If I can see some of the same success Sava has had at her wonderful restaurant, it'd be great," he said.
Former owner Panos told AnnArbor.com he likes the new concept for the restaurant.
"[Vushaj] is going to make this the best steakhouse east of Knight's," he said.
As for his next step: "Who knows, maybe I'll take a vacation."
Lizzy Alfs is a business reporter for AnnArbor.com. Reach her at 734-623-2584 or email her at lizzyalfs@annarbor.com. Follow her on Twitter at http://twitter.com/lizzyalfs.