Posted on
Mon, Nov 5, 2012 : 2:59 p.m.
Mani Osteria owner plans to open 'Isalita' Mexican restaurant by December
By Lizzy Alfs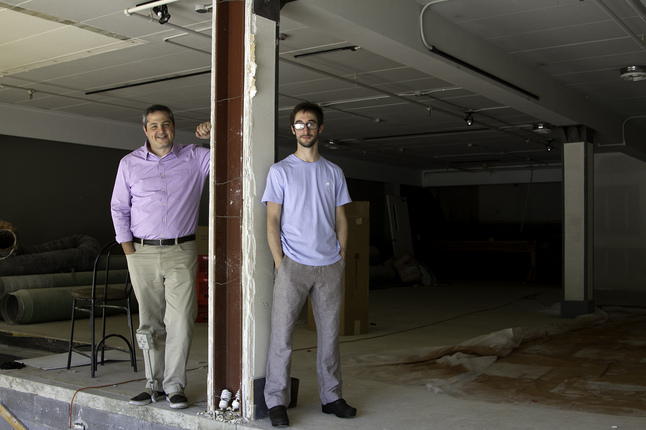 Steve Pepple | AnnArbor.com
Adam Baru
, owner of downtown Ann Arbor's popular
Mani Osteria
, spent months trying to find the perfect name for his
new Mexican restaurant
opening on East Liberty Street.
It took a trip to Mexico, about two dozen different ideas and encountering copyright issues, but he finally landed on the right one: Isalita.
It's not a real town in Mexico and it's difficult to pinpoint the exact meaning behind the name. But, as Baru explains, his 5-year-old daughter's name is Isabel, 'ita' indicates affection, and then he says, "We just added a letter."
"I wanted it to feel like a place," he said. "Isalita became really, just a fictitious place down in Mexico, but in my mind, it's a lot of memories down there."
Baru signed a lease for the 2,600-square-foot space next to his East Liberty Street pizza restaurant in May. He spent the last few months renovating and hopes to open Isalita in late November or December.
Currently, his team is putting a new copper storefront on the building and installing a kitchen and bar. The restaurant will have seating for about 90 people.
The menu — which is 90 percent complete — will have small plates of traditional Mexican street food. Baru and his chef, Brendan McCall, took a trip to Mexico over the summer for inspiration. They also worked with Philadelphia chef Arthur Cavalier.
"There are these outdoor markets in Mexico with little stands of mom and pop restaurants…they're all using really fresh ingredients and might offer just a few things they do really well," Baru explained.
"We're taking sort of our favorites and putting it under one roof."
Baru's interest in Mexican food and culture dates back years. He takes frequent trips there to visit his wife Lucia's family, and he also opened a large Mexican restaurant in Philadelphia for Iron Chef's Jose Garces.
Like Mani, Baru said the food at Isalita will be fresh and light. Everything, including the corn tortillas, will be made in-house and will use locally sourced ingredients when possible. Because it's a mix of small plates, menu items will be lower priced than his pizza restaurant.
"We're going to do guacamole, obviously, but we'll do four different varieties," he said. "We'll have 10 or 12 different varieties of tacos, with probably three to a plate, small, four-inch tacos."
The tacos could range from $7 to $12 a plate. The idea, he said, is for each table to share several items.
Baru is looking to hire 20 to 25 employees to staff the new restaurant. There will be an open house job fair at Mani from 10 a.m. to 1 p.m. on Monday, Nov. 12.
Because Isalita shares a roof with Mani, Baru expects a few employees to work between the two restaurants, while McCall will be able to lead the food at both. There will be a "nice synergy" between the two establishments, Baru said, where guests can have a drink or appetizer at one restaurant while waiting for a table at the other.
"The fact that this is next door (to Mani) and that we've had such a good 18 months made it a lot easier to make the jump into another restaurant so soon," he said.
At the same time, the success Baru found with Mani in its first year — it has been recognized as one of Metro Detroit's best new restaurants — sets the bar high for Isalita.
"It has to be great," he said. "Obviously, I want it to be great for the guest experience, but my expectation for myself and the team is that we do it the right way and that we are great. That's the bar we set for ourselves."
Check out the Isalita Facebook page for updates on the restaurant.
Lizzy Alfs is a business reporter for AnnArbor.com. Reach her at 734-623-2584 or email her at lizzyalfs@annarbor.com. Follow her on Twitter at http://twitter.com/lizzyalfs.