Posted on
Sat, Nov 6, 2010 : 7 p.m.
Marcano's South American takeout debuts on Packard in former BTB Burrito
By Janet Miller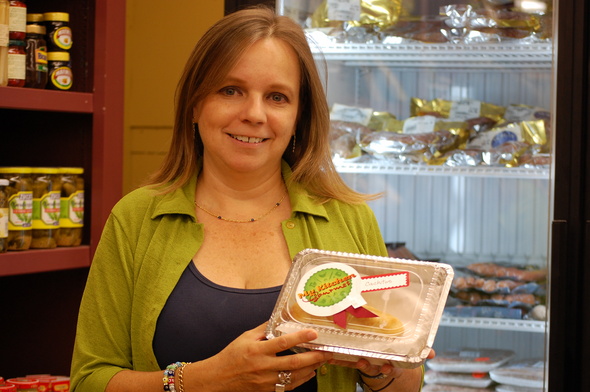 Janet Miller | For AnnArbor.com
Elizabeth Marcano-Kennedy
wanted to honor her late father by opening her new takeout South American eatery on his birthday Oct. 5.
While she missed it by a month, Marcano's Takeout debuted Friday in the former BTB Burrito at 1906 Packard, just south of East Stadium Boulevard.
While there was one glitch - the cash register didn't work and tabs had to be done by hand - the first day was a success, Marcano-Kennedy said of her first restaurant endeavor. For the past year or so, she has been selling South American dishes wholesale and at the Westside Farmers' Market under the name of My Kitchen Gourmet.
There were two reasons for the delayed opening, said Marcano-Kennedy, an architect when she lived in her Venezuelan homeland. She and her husband, Scott Kennedy, decided to do the build-out themselves, and the city had some electrical issues.
But she's happy with the way the building, formerly draped in a grey façade, turned out. She painted the outside a rich burgundy - called vino tinto (red wine) in Venezuela, an ode to the country's national soccer team.
The interior has colorful greens, yellows and whites. "I wanted a more homey look, as if you are in the living room or dining room of a house," Marcano said. "We are colorful people, but I didn't want to go overboard."
Marcano is using family recipes to make authentic South American dishes such as reina pepiada (chicken with homemade mayonnaise and avacado), yucca and plantain fritters and empanadas. She also offers soups such as chupe (a Peruvian soup with corn and ham), salads and sweets such as Tres Leches cake. Prices range from $3.50 to $7.
Hours will be from 10 a.m.-6 p.m. Monday through Saturday, closed Sundays, until her ovens arrive, which should be in a week. Then she will also be open for breakfast, beginning at 7 a.m. It is all carryout.