Marcano's Takeout to dish up South American comfort food from Packard storefront
Posted on Tue, Aug 31, 2010 : 5:59 a.m.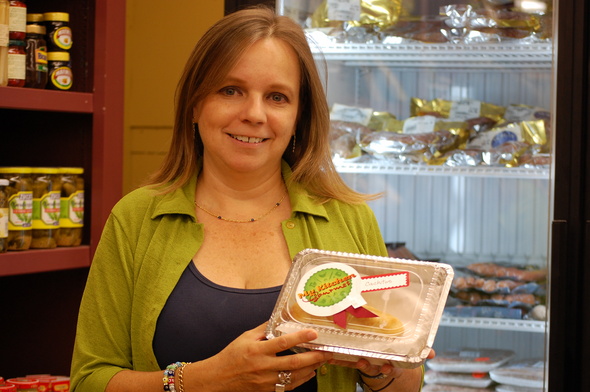 Janet Miller | For AnnArbor.com
When Elizabeth Marcano-Kennedy pulled up her roots and moved from Venezuela to Ann Arbor in 2003, she knew she was in for some big changes: New country, new friends, new language.
Now, it's time for a new career. The former architect will become a restaurant owner, opening a new South American eatery in Ann Arbor.
Using family recipes and encouraged by her American-born husband (and No. 1 taste-tester) Scott Kennedy, Marcano-Kennedy plans to open Marcano's Takeout Oct. 5 (her late father's birthday) at 1906 Packard, the former home of BTB Burrito, which closed earlier this month.
Marcono's will offer South American and Caribbean dishes such as chupe (a chicken and cheese soup from Peru), yucca and plantain fritters, batidos (fruit shakes) and tres leches cake.
The stretch of Packard Street south of East Stadium Boulevard has become a food destination, first with Morgan & York wine and specialty foods and most recently with the move of Cake Nouveau. Marcano-Kennedy will be bringing something different to the table. "New York and Florida have Venezuelan food, but there is nothing like this in the area," Marcano-Kennedy said.
Marcano-Kennedy has eased into the new career. Arriving in Ann Arbor to join her sister, she landed a couple of architecture-related jobs, but was told she would have to take exams to become certified. "After all of the other changes, I thought I could do one more," she said.
She began taking culinary arts and business classes at Washtenaw Community College and worked as a prep cook in a couple of area restaurants to get a feel for the restaurant business. Finally, her sister took some of her cookies to the owners of Morgan & York, which agreed to sell them.
Marcano-Kennedy rented commercial kitchen space at the Jefferson Market and Cakery and a year ago opened My Kitchen Gourmet, where she prepares South American comfort food such as coquitos (coconut cookies) and cachitos, a ham roll wrapped in a sweet bread. She has also been offering South American cooking classes at Hollander's Upstairs in Kerytown. She will consolidate all of her cooking at the new location.
My Kitchen Gourmet has found shelf space at a number of area markets, including Morgan & York, Jefferson Market and Pilar's Tamale Shop. She expanded this year when she began selling at the Thursday Westside Farmer's Market, in the parking lot of Zingerman's Roadhouse.
She's ready for the next step, Marcano-Kennedy said. Marcano's will sell only takeout and she wants to expand to catering. Eventually, she said, she would like to find space for a sit-down restaurant.
"This is a good first step. I liked the idea of carryout," she said. Prices are expected to range from $4 to $6 for a meal. She needs to buy ovens (BTB didn't bake) and will paint the interior and exterior in vibrant South American colors.
The project is being self-financed with the help of family, she said. She has a five-year lease with an option to buy the building, she said.
"In Venezuela, I was always cooking," Marcano-Kennedy said. "But I never thought of it as a business, as a way to make a living. It was a hobby."
Marcano's will be open six or seven days a week and will serve lunch and dinner with breakfast also served on Sunday. Exact hours will be determined.