Posted on
Sat, Apr 14, 2012 : 5:57 a.m.
Market share: Ann Arbor area banks' FDIC rankings
By Paula Gardner
Recent news that Bank of Ann Arbor will close, expand and open offices in Washtenaw County this year was only one sign of change among local banks.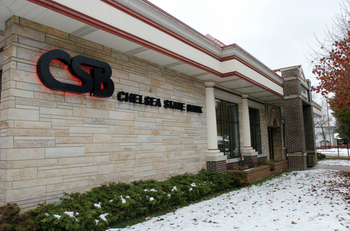 File photo | AnnArbor.com
A look at FDIC reports of bank market share among the 19 institutions in the Washtenaw County market also shows that rankings changed in 2011 - the last year data is available - for 10 of them.
Bank of Ann Arbor is now ranked No. 5 in the market, up from 7 a year earlier. It's now the largest local bank, with 9.04 percent of the market, based on deposits in the county. And it leapfrogged over both Comerica (6) and Michigan Commerce Bank (7).
Other changes in 2011 include:
The No. 2 and 3 banks in the market switched positions: JPMorgan Chase Bank is now the second-largest, with 13.26 percent of deposits, while PNC Bank fell to third place, with 11.98 percent of deposits.
Bank of America (9) and Flagstar (10) swapped positions from 2010.
Fifth Third went from No. 14 to 13, while Ann Arbor State Bank went from 15 to 14, as University Bank dropped from 13 to 15.
Fidelity Bank, ranked No. 16 in 2011, was just acquired by Huntington Bank as part of a regulatory move to sell the assets of the failing Dearborn-based bank.
Here's a look at the information from the FDIC:
From the FDIC