Posted on
Sun, Jan 22, 2012 : 5:59 a.m.
Mary Sue Coleman: U-M 'ahead of schedule' in expansion at ex-Pfizer site
By Nathan Bomey
University of Michigan President Mary Sue Coleman said the university is "ahead of schedule" in repopulating the ex-Pfizer research campus in Ann Arbor.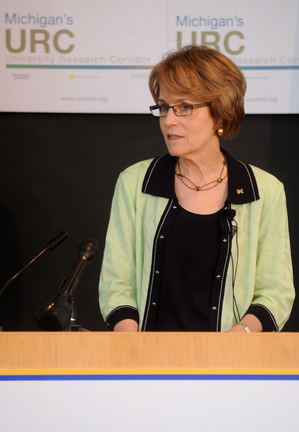 Melanie Maxwell | AnnArbor.com
Five years after Pfizer announced its plans to leave the facility
, U-M — which acquired the 174-acre property for $108 million in 2009 — has about 1,000 employees at the site. The university expects to have 1,700 at the 30-building, 2 million-square-foot complex by the end of 2012.
"We're pretty ecstatic about what's happening," Coleman said in a phone interview.
University executives view the ex-Pfizer property — since renamed North Campus Research Complex (NCRC) — as a vital instrument in the reshaping of the university's $1.2 billion research structure.
U-M is refocusing its research efforts on multidisciplinary initiatives that bring together scientists, engineers and other researchers to pursue new technologies in a collaborative environment.
The Pfizer laboratories offer a pristine space in a generally open setting the university believes is critical to future research opportunities.
But the university is not just using the property for laboratory science. The university launched the 16,000-square-foot Venture Accelerator to house more than a dozen of its own startup companies, giving university entrepreneurs a springboard for technology cultivation and commercialization.
5th anniversary of Pfizer's announcement

Separately, the university is also leasing ex-Pfizer laboratories to U-M startup biotech firm Lycera Corp. and Michigan State University startup BoroPharm. Those companies have said that the ex-Pfizer facilities provided world-class research space they probably would not have found in Michigan otherwise.
One of the university's priorities at the site is the creation of the Institute for Healthcare Policy and Innovation, which is researching ways to improve the nation's health care system.
"When I think about what are the issues facing the nation — health care costs, health care reform — for us to have 500 people working in that area, we'll catch a wave of real societal need, of national need, and if we hadn't had Pfizer we couldn't do it," Coleman said.
Coleman said the university hasn't "made all of the decisions yet of who will be there," but that the focus would remain on tackling "big challenges."
U-M's acquisition of the property was generally welcomed because the pool of possible buyers dried up as the global financial crisis reduced access to credit for most private suitors.
Among the interested entities was Cleveland-based developer Forest City Enterprises, which had previously redeveloped another ex-Pfizer property. But those discussions never got traction.
It was later revealed that Pfizer had indicated it was not interested in selling off the site piece by piece — which many observers viewed as the only plausible option for private-sector buyers.
The university itself played a key role in trying to market the site to for-profit buyers before deciding to pursue the site itself.
"I would have been overjoyed if a private entity similar to Pfizer had decided to come in," Coleman said. "There were a lot of people talking about it. We tried to help promote those talks because we thought that would have been a wonderful thing for the community and a good thing for the university."
But as the financial crisis deepened, the prospect of a private buyer coming in "looked bleaker and bleaker," Coleman said.
"And my biggest fear, I will tell you, was that Pfizer would simple raze the site to bring the tax down," she said. "I had no intelligence that they were going to do that, but I also knew the pressure that was facing the big pharma companies."
Indeed, Pfizer was concerned about taxes: It challenged its final tax bill on its way out the door.
Former Ann Arbor SPARK CEO Michael Finney, now CEO of the Michigan Economic Development Corp., confirmed Coleman's assertion that U-M didn't try to muscle prospective private buyers out of the mix.
"They did stay out of the way and allowed it to happen in spite of the fact that they could have rushed in right away," Finney said. "They did an awful lot to help us early on."
By all accounts, U-M got an extraordinary deal. The university bought the property at a discount of about one-eighth of the market rate for similar property in a better economy, according to one estimate.
Coleman said the university's real estate advisers in the deal indicated that "because of the external conditions that we should be able to get a good deal" and "pushed us to be sure that we did."
One factor that the university planned for, she said, was the prospect of environmental contamination.
"We made very sure we were protected against that — we didn't find any in the end," she said.
Contact AnnArbor.com's Nathan Bomey at (734) 623-2587 or nathanbomey@annarbor.com. You can also follow him on Twitter or subscribe to AnnArbor.com's newsletters.