Posted on
Tue, Mar 16, 2010 : 11:26 a.m.
Masco plans to staff ex-Flint Ink building with 450 workers, including 100 new hires
By Nathan Bomey
Masco Corp. will consolidate two cabinetry divisions into a single operation headquartered in Ann Arbor Township and staffed by more than 450 employees, economic development officials confirmed today.
Masco Cabinetry Co. will relocate 350 employees from offices in Adrian, Mich. and Middlefield, Ohio, and hire up to 100 new workers over the next five years, company officials said this afternoon.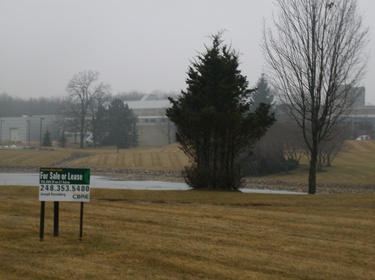 The firm, backed by a six-year tax abatement approved Monday night by the Ann Arbor Township Board of Trustees, plans to locate its operation at the
long-dormant 150,000-square-foot Flint Ink facility
on Arrowhead Drive off Dixboro Road.
Masco spokeswoman Susan Cross said this afternoon that the firm plans to begin staffing the operation in the fourth quarter, perhaps as early as October.
"The Ann Arbor area really gives us the benefits of a major metropolitan area in a non-urban setting," Cross said. "Ann Arbor's widely been recognized as a very desirable place to live."

The site will be used to "house executive oversight, technical and R&D resources as well as all corporate finance, marketing and IT services to the cabinet group," according to documents from the Michigan Economic Development Corp.
"The Flint Ink building has been vacant for about three years and we've very pleased that Masco is going to occupy it and return to use in the community," Ann Arbor Township Supervisor Michael Moran said.
The move - first reported Friday by AnnArbor.com - comes after Masco announced in February that it would create the Masco Cabinetry division to consolidate its Masco Retail Cabinet Group and Masco Builder Cabinet Group.
"Combining the strengths and talents of the two organizations to generate significant value for our customers is a very exciting opportunity," said Karen Strauss, president of Masco Cabinetry, in a February news release. "By inspiring and creating kitchen and bath solutions with meaningful innovation and consumer-preferred brands, we will drive breakthrough growth opportunities for our customers and our company."
The MEDC is expected to approve 10-year standard employment tax credit tied to the company's agreement to hire up to 250 new employees and the retention of the 206 existing workers.
Leaman said Masco hopes to "establish a new culture" with its consolidated operation, though he didn't offer specifics. He said the Flint Ink facility was the perfect fit to support that mission.
"When we looked at the building itself, it's particularly conducive to that vision," he said. "It has the feel for that."

Ann Arbor Township's abatement, worth $206,588 in offset taxes, was based on an total planned investment of $7.75 million.
The consolidation comes as Masco is positioned to reap benefits from a gradual economic turnaround after several years of cost cutting. The firm closed 17 manufacturing facilities and cut 23,000 workers from 2006 to 2008.
Masco Corp.'s sales dipped 18 percent from $9.5 billion in 2008 to $7.8 billion in 2009.
Contact AnnArbor.com's Nathan Bomey at (734) 623-2587 or nathanbomey@annarbor.com or follow him on Twitter. You can also subscribe to AnnArbor.com Business Review's weekly e-newsletter or the upcoming breaking business news e-newsletter.