Posted on
Thu, Jan 12, 2012 : 11:53 a.m.
Matty Moroun sent to jail over bridge dispute
By AnnArbor.com Staff
Ambassador Bridge Co. owner Manuel "Matty" Moroun and the executive who leads the company that owns the bridge, Dan Stamper, were sent to jail this morning after failing to complete a construction project to connect the bridge to local freeways, according to several reports.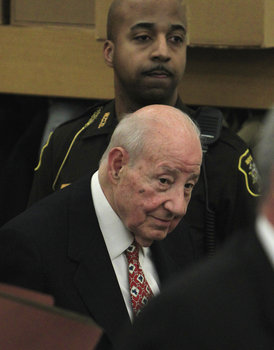 Carlos Osorio | Associated Press
A Wayne County judge ordered the executives to jail, dismissing a last-minute assertion that Moroun and Stamper had resigned from leadership of the company, according to reports by the
Detroit Free Press
,
Detroit News
and
Huffington Post Detroit
.
Judge Prentis Edwards said "it is clear" that the Detroit International Bridge Co. "does not intend to comply with the court order" to complete construction on bridge gateway project, the Free Press reported.
The dispute is separate from the battle over whether the state should authorize the construction of a second bridge from Detroit to Canada.
Moroun has waged a fierce battle, spending millions of dollars on advertising to mobilize public opinion against a new bridge — which Gov. Rick Snyder and all the major auto companies and business groups say is necessary to handle future increases in traffic.