Posted on
Tue, Apr 9, 2013 : 3:04 p.m.
Menards on Jackson: Scio Township Planning Commission offers critique on site plan
By Lizzy Alfs
Courtesy of Menards
Scio Township Planning Commissioners
weighed in Monday night on a site plan proposal for a
Menards
store on the corner of Jackson and Staebler roads.
The Wisconsin-based home improvement chain intends to purchase 62 acres of the 165-acre site known as the former Farmer Grant property. A roughly 160,000-square-foot Menards store and lumberyard would occupy about 1/3 of the purchased site, leaving room for additional outlot development surrounding the store.
"We're really looking forward to your support and getting going with the project," Menards spokesman Tom O'Neil told commissioners on Monday.
Planning Commission voted to recommend approval of the plan, subject to several revisions. Menards has to resubmit the plan and then the Scio Township's Board of Trustees will consider it in the coming weeks.
Menards was granted a property rezoning and a conditional use permit last year. Site plan approval is the final hurdle before the company can move forward with the project.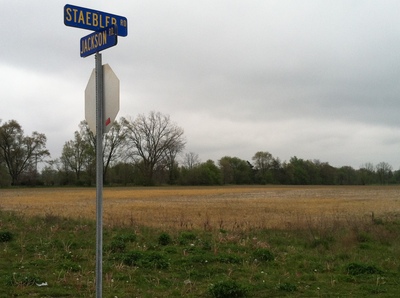 Lizzy Alfs | AnnArbor.com
"It's getting pretty solid looking," commissioner Allison Arscott said Monday night.
The commissioners did raise a few issues with the site plan, including whether a public easement could be provided along Honey Creek and whether the parking is effectively configured.
The site plan shows the Menards store would be set back from Jackson Road, with a parking lot in the front and a warehouse behind the store. The company could then sell four outlot properties.
Plans include two access ways off Jackson Road and one off Staebler. A traffic light is proposed at the westernmost access way on Jackson.
Menards has provided about 450 parking spaces in the plans, but 618 are required under township ordinance. O'Neil said Menards is confident in the amount of parking provided, and cited several similar Michigan and Ohio Menards stores with the same amount of parking it's proposing at the Scio Township store.
"I think the final number that we're going to provide is a little bit in flux. We're going to make some additional change," O'Neil told AnnArbor.com on Tuesday.
Arscott said she's happy with the amount of parking provided, but suggested including a landscape island that would separate the western access drive and the parking area.
"The parking, I'm fine with," she said. "The less you think you can get away with, I'm all for it."
Commissioner Jack Knowles suggested Menards and the township draft some sort of development agreement or binding document that would address a public easement along Honey Creek.
Arscott added: "I'd like some kind of language that keeps that possibility open."
When Menards resubmits its site plan, O'Neil said the company does intend to provide an agreement for a north-south crossing of Honey Creek that could eventually lead to a pedestrian walkway on the south side. He said the new plan will also address concerns about a landscape island.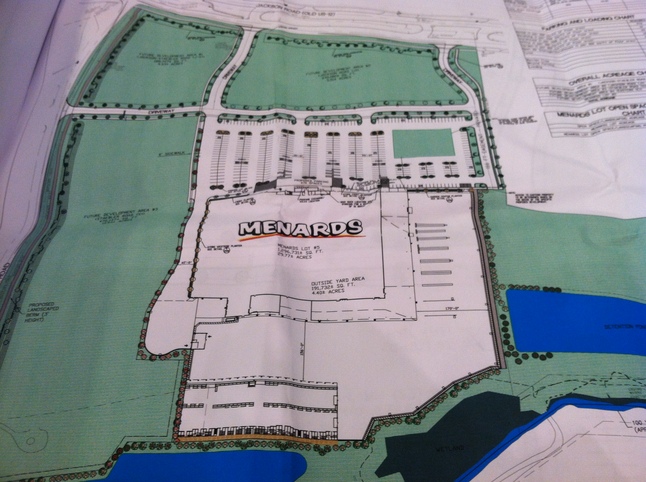 Lizzy Alfs | AnnArbor.com
Lizzy Alfs is a business reporter for AnnArbor.com. Reach her at 734-623-2584 or email her at lizzyalfs@annarbor.com. Follow her on Twitter at http://twitter.com/lizzyalfs.