Posted on
Thu, Oct 7, 2010 : 6:03 a.m.
Health care reform law played role in merger between IHA, St. Joseph Mercy Health System
By Nathan Bomey
Bill Fileti, CEO of Ann Arbor-based Integrated Healthcare Associates, wants to make sure Michigan doesn't become Massachusetts.
"If you watched the Massachusetts experience, when they went to universal health care, volumes skyrocketed and waiting time grew exponentially," he said. "That's not an outcome that we want here in our community."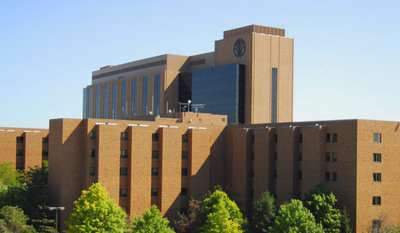 Photo courtesy of St. Joseph Mercy Health System
With that in mind, IHA said Tuesday that it had
agreed to a merger
with
Saint Joseph Mercy Health System
, which will operate IHA as a subsidiary, maintaining IHA's 150 physicians, 700 other employees and 32 offices in four counties.
Both health care organizations said the merger was partly a response to the national health care reform legislation passed earlier this year by U.S. Congress and signed by President Barack Obama.
The health care reform law, together with another federal bill, will ultimately result in some 32 million uninsured Americans being eligible for coverage, putting more strain on health care providers.
Marianne Udow-Phillips, director of the Center for Healthcare Research & Transformation, a partnership between the University of Michigan and Blue Cross Blue Shield of Michigan, said the merger was a sign of things to come for the Ann Arbor region.
"The IHA-St. Joe's merger is a great example of the kinds of things we're going to start see rolling out as we gear up for health care reform," she said.
Today, Michigan has about 1.055 million residents living without health care insurance.
By 2014 the law will be in full effect, requiring uninsured people to buy insurance or pay fees to the government. CHRT projects that about 910,000 currently uninsured Michigan residents will have coverage after the health care reform law takes full effect in 2014.
The legislation calls for the creation of so-called insurance exchanges, giving people the option to buy their own insurance, in some cases using government subsidies. Others will become eligible for government insurance through Medicaid or Medicare.
Collectively, it means that people who previously would never dream of visiting the hospital or a doctor will suddenly have cost-effective options of doing so.
For Michigan hospitals and doctors, a sudden influx of patients is looming - and that means they need to become more efficient in working together to treat patients more efficiently and effectively.
"The connection between physicians and hospitals in the post-health reform world will be much more important than it ever has been historically," Udow-Phillips said. "That's because there are a lot of components of health care reform that rely on physicians and hospitals working together to improve the quality and cost-effectiveness of care.
"Creating these integrated systems was very much part of what the vision was for health care reform."
An integrated system is the goal of SJMHS and IHA. Both organizations had already been collaborating - some IHA doctors serve in various medical roles at St. Joe's seven hospitals, for example.
But they need to collaborate more effectively to shift treatments from hospitals to doctor's offices, freeing up hospital space and reducing health care costs.
"The real economic value of this is not so much realized by us but it's by those who are going to pay for care down the road," said Rob Casalou, CEO of St. Joseph Mercy Hospitals in Ann Arbor, Saline and Howell. "IHA - their model is to keep people out of the hospital. If we work together well in this partnership, we'll be lowering costs and that's ultimately where the value is."
There's an incentive for collaborating, too. The federal health care legislation favors so-called "bundled payments," which provide a single rate of reimbursement for health care services provided by a health care group. A network of doctors and hospitals can get higher payments for ensuring "they're not just bouncing patients back and forth," Udow-Phillips said.
Meanwhile, the legislation also stipulates that Medicare reimbursement payments will be made to so-called "accountable care organizations" - that is, a coalition of health care providers - based on goals such as improved clinical care and shared savings.
"The only way that hospitals are going to achieve the goals that have been set out for them by Medicare are by working with doctors closely," Udow-Phillips said.
Robert Milewski, senior vice president of operations and health care value at Blue Cross Blue Shield of Michigan, said that the health care reform law is playing a role in prompting more collaboration between doctors and hospitals. But he said the country's aging population is also a factor.
"In order to achieve the types of the efficiencies that are going to be necessary going forward, just because of the pressures on the health care system, there's going to have to be better alignment between hospitals, physicians and insurers," Milewski said.
Contact AnnArbor.com's Nathan Bomey at (734) 623-2587 or nathanbomey@annarbor.com. You can also follow him on Twitter or subscribe to AnnArbor.com's newsletters.