Posted on
Fri, Jan 7, 2011 : 3:53 p.m.
Michael Finney to oversee economic growth, energy, transportation group for Rick Snyder
By Nathan Bomey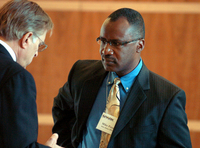 Former
Ann Arbor SPARK
CEO
Michael Finney
, appointed earlier this week to become
the next CEO
of the
Michigan Economic Development Corp.
, will oversee one of six groups Gov.
Rick Snyder
created as part of a new statewide leadership structure.
Finney will be the head of the executive group responsible for overseeing the Michigan Department of Transportation, MEDC and the Michigan Department of Energy, Labor and Economic Growth, the governor's office confirmed this afternoon.
The appointment means that the directors of MDOT and DELEG will report to Finney, who will report back to Snyder.
Snyder has said he created the executive group concept to mirror the leadership structure he's familiar with from his business experience. Individual department heads will still communicate directly with Snyder when appropriate.
Snyder and Finney met when Snyder was chairman of the MEDC from 1999 and 2001 and Finney was a vice president at the economic development agency. Finney left in 2002 to start an economic development group in Rochester, N.Y., but Snyder recruited Finney to become SPARK's first CEO when Snyder formed the group in 2005.
Finney told Business Review West Michigan in a story published today that he wants to conduct a "thorough review" of the effectiveness of the state's business tax incentives structure.
"My philosophy is if it's drawing a lot of attention, you should probably assess it soon, rather than later," Finney said. "It doesn't mean it's right or wrong. It just means that you should probably take a look at it so that you can accurately communicate the effectiveness of it and, frankly, the need for it.
The other executive groups, according to the Associated Press, are: "people," which includes the departments of Human Services, Community Health, Education and Civil Rights and will be led by Human Services director Maura Corrigan; "public safety," which includes the departments of Corrections, State Police and Military and Veterans Affairs, led by Deputy Chief of Staff Jeff Barnes; "quality of life," which includes Environmental Quality, Natural Resources and Agriculture and Rural Development. and will be led by DEQ director Dan Wyant; "treasury," which includes the Treasury, the Lottery Bureau and gaming, and will be led by Treasurer Andy Dillon; and "value for money," which includes the departments of Information, Management and Budget and the Office of the State Employer, and will be led by Management and Budget director John Nixon.
Contact AnnArbor.com's Nathan Bomey at (734) 623-2587 or nathanbomey@annarbor.com. You can also follow him on Twitter or subscribe to AnnArbor.com's newsletters.