Posted on
Mon, Dec 13, 2010 : 4:30 p.m.
Mike Finney leaving Ann Arbor SPARK to lead Michigan's economic development office
By Paula Gardner
Michael Finney, the first CEO of Ann Arbor SPARK is leaving the group to take over as CEO of the Michigan Economic Development Corp., Gov.-elect Rick Snyder announced today.
As Finney moves into the statewide leadership role, Skip Simms will take over as interim president and CEO of the Washtenaw County-based economic development office, according to a news release issued this afternoon.
The choice of Finney reflects his own strengths - as exhibited locally over 5 years - as well as the accomplishments of Ann Arbor SPARK during that time, said Tim Marshall, president of the Bank of Ann Arbor and a SPARK board member.
"To see our former chair (Snyder) as governor-elect and now (Finney) as head of Michigan's economic development efforts speaks volumes for what SPARK's been able to accomplish," Marshall said.
As for Finney, Marshall described him as strategic.
"He's a smart guy, he a strategist, he's ... got a great vision," Marshall said. "All of those aspects of his personality are going to serve our state wonderfully."
Part of that vision was to establish Ann Arbor SPARK as a statewide economic development force as it advocated for the Washtenaw County region.
"Ann Arbor SPARK has achieved national recognition in the five years since its formation," said Stephen Forrest, Ann Arbor SPARK's chairman of the board, in the news release. 
"The Board of Directors and Executive Committee are committed to continuing that momentum and the appointment of Skip as interim president and CEO ensures that SPARK will not miss a beat in its mission to support business and talent growth in the Ann Arbor region."
Finney was hired by Snyder to run Ann Arbor SPARK as it was created in 2005, merging both efforts of the Washtenaw Development Council and the University of Michigan's economic development initiatives.
He replaces Greg Main, who was named by Gov. Jennifer Granholm to run the statewide organization after Jim Epolito resigned.
While long-speculated to be the front-runner to take over the MEDC if Snyder won the November election, many people believed the appointment would take place in January.
Instead, Snyder and Granholm announced it today at a joint press conference. Then the appointment will become official in January, after the MEDC's board meets for the first time under the new governor, said Elizabeth Parkinson, SPARK spokesperson.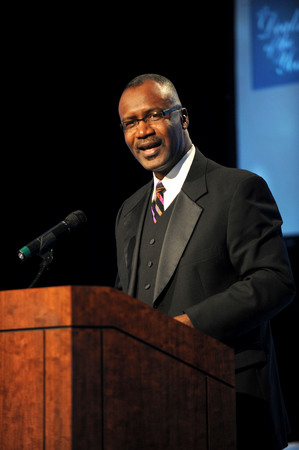 File photo | AnnArbor.com
Also part of today's annoucement was the predicted recommendation by Snyder that Doug Rothwell become chair of the MEDC. The Ann Arbor resident has been a leader on Snyder's transition team and he was CEO of the MEDC under former Gov. John Engler.
Snyder has been expected to overhaul the MEDC, which Granholm said today has attracted 3,900 companies to Michigan, saving or creating 653,000 jobs.
However, the agency faced criticism early this year over its claims of job creation and tax credits that were awarded to a fraud artist.
Finney has been instrumental in creating regional business attraction efforts, which he's called "open-source economic development," elevating the place of broader geographic business attraction instead of having communities battle each other with incentives to lure new business.
That was a fresh outlook, Marshall said, and helped grow Michigan even as it advanced the Ann Arbor area. When business development opportunities weren't good fits for Ann Arbor, Finney would find other viable solutions in nearby areas.
"He had a very big picture in terms of understanding that the whole goal here is moving Michigan forward," Marshall said.
Meanwhile, Simms previously served as SPARK's vice president of entrepreneur business development as well as manager of the Michigan Pre-Seed Capital Fund and the Michigan Microloan Fund Program.
"SPARK has a very experienced and seasoned management team that has thoughtfully been assembled by Mike Finney over the past five years and they will continue to perform admirably in each of their respective areas," Marshall said in an email. "We believe that Skip can continue to move the organization forward as we commence a search for the permanent President and CEO."
As for Ann Arbor's future as Finney leaves for Lansing and Simms takes over the interim role at SPARK, Marshall expects the organization to retain its position as a jobs attractor.
"There's already a substantial amount of momentum happening in this market that's going to continue to happen," Marshall said.
The MEDC announcements today included nominations to the MEDC executive committee, with Snyder and Granholm each naming 10 individuals.
Snyder's nominations are: Chris Rizik of Renaissance Venture Capital Fund; Lizabeth Ardisana, CEO of ASG Renaissance; Greg Northrup, president of the West Michigan Strategic Alliance; John Rakolta Jr., CEO of Walbridge; Kirk Lewisof the City of Detroit; Stephen R. D'Arcy, chair of Detroit Medical Center and partner in Quantum Group LLC; Forrest; Robert Collier, CEO of the Council of Michigan Foundations; David Armstrong, CEO of Greenstone Farm Credit Services; and Rothwell.
Granholm's nominations: Mary Lou Benecke, Dow Corning; D. Jeffrey Noel, Whirlpool; Dr. Marilyn Schlack, president of Kalamazoo Valley Community College; Chris MacInnes, COO of Crystal Mountain Resort; Ann Marie Sastry, CEO of Sakti3; Jeff Metts, Dowding Industries; Thomas Lewand, Bodman; John W. Brown, chair emeritus of Stryker Corp.; Haifa Fakhouri, CEO of the Arab-American and Chaldean Council; Dwayne Walling, mayor of Flint.