Posted on
Tue, Sep 7, 2010 : 12:32 p.m.
Michigan's gubernatorial race: 'We've got to get over' outsourcing accusations, manufacturing exec says
By Nathan Bomey
(Update: This story has been updated with comments from the Snyder and Bernero campaigns.)

Accusations that Michigan Republican gubernatorial candidate Rick Snyder failed to stop Gateway Inc. from outsourcing jobs while he was serving on the computer company's Board of Directors are intensifying.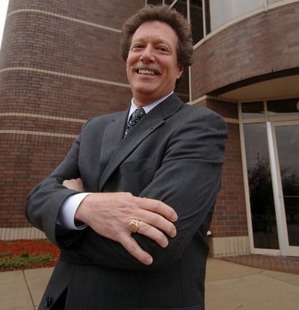 Photo courtesy of Business Review West Michigan
It's been an ongoing business debate. But now at least one Michigan manufacturing leader is not so sure those allegations are relevant to the state's gubernatorial campaign.
"I think as a state we've got to get over some of this," said
Chuck Hadden
, CEO of the
Michigan Manufacturers Association
, whose 3,000-company membership is concentrated in
industries hard hit by globalization
.
The
Democratic Party
, however, believes that Michigan - which lost 48.8 percent of its manufacturing employees from January 2000 to January 2010, according to the U.S. Bureau of Labor Statistics - won't be forgiving of Gateway's demise.
Democratic Party employees showed up Monday in Detroit on Labor Day to demonstrate against Snyder's business record while wearing black-and-white cow suits in a reference to the spotted cow boxes Gateway used to ship its computers, according to WXYZ-TV.
"We're here today to tell the truth about Rick Snyder's record, and the truth is he made a lot of money, millions of dollars, while his company eliminated American jobs and outsourced them to China," Michigan Democratic Party chairman Mark Brewer told WXYZ.
The demonstration marked the latest iteration in the Democratic Party's attacks on Snyder's record at Gateway - which started when Snyder launched his campaign in summer 2009. The party is also considering airing TV advertisements attacking Snyder's record at Gateway, according to the Detroit Free Press.
The accusations against Snyder mirror similar rhetoric that helped Gov. Jennifer Granholm defeat 2006 GOP candidate Dick DeVos, who was similarly accused of outsourcing jobs as an executive at Amway.
Snyder campaign spokesman Bill Nowling said Brewer was distorting Snyder's record.

"It's clear that the Democrats and especially Mark Brewer aren't going to let the facts that Rick Snyder never outsourced a job as CEO get in the way of their story," Nowling said. "When Rick was the CEO, he didn't outsource a job. When he stopped being CEO, someone else outsourced jobs and when he came back as interim CEO, he started to bring back those jobs to the United States."
Bernero campaign spokesman Cullen Schwarz disputed Nowling's characterization of Snyder's record.
"Mr. Snyder profited handsomely while this outsourcing was going on. That record will matter to voters, as it should," Schwarz said.

A new poll released today by East Lansing-based Mitchell Research and Communications showed Snyder with a 53 percent to 26 percent lead over Lansing Mayor and Democratic candidate Virg Bernero, the Free Press reported.

Democrats believe that voters will favor Bernero when they find out what happened to Gateway.
But Hadden said globalization is a reality Michigan needs to accept and leverage.
"Quite frankly, a lot of those times when those jobs are shipped somewhere else - whether it's Mexico, China, whatever you want to say - they're supporting jobs here in the state," Hadden said.
Michigan should be pursuing high-tech jobs and an advanced manufacturing sector instead of "chasing the cheapest labor" jobs, Hadden added.
Hadden said the Michigan Manufacturers Association plans to meet with the Snyder and Bernero campaigns this month before issuing an endorsement in the race. The group, which did not issue an endorsement in the primary, endorsed both Granholm and DeVos in 2006.
Schwarz rejected the suggestion that outsourcing jobs is a necessary evil in a globalized economy.

"It is a global economy, but that's exactly why we need a governor who's going to stand up and fight for Michigan, who will stand up and fight against outsourcing and against our jobs being sent to other countries, not a governor who was complicit and got rich participating in that," Schwarz said.

A comprehensive analysis conducted this summer by AnnArbor.com showed that Gateway grew from about 700 employees in the U.S. to more than 10,000 while Snyder was serving as executive vice president and president from 1991 to 1997.
But the company started to crumble a few years later under different executives while the industry restructured and cost concerns prompted computer-makers to shift manufacturing to Asia.
From 2000 to 2005, while Snyder was still serving on Gateway's Board, the company contracted from 21,100 jobs in the U.S. to 1,800 - partly due to declining sales and partly due to outsourcing.
In summer 2006, Snyder briefly returned to Gateway in the wake of the company's severe contraction to serve as interim CEO. During that 8-month period, he started a call center and small manufacturing operation in the U.S. due to poor performance of the company's overseas operations.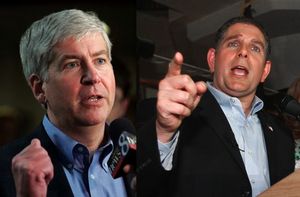 The company was sold a year later to Taiwan manufacturer Acer, which continues to sell some computers under the Gateway brand.
Analysts told AnnArbor.com this summer that Gateway would not have survived if it had not outsourced manufacturing.
Snyder has said he opposed the outsourcing but was a "minority voice" on the board and couldn't stop it. He has said he has demonstrated experience as a "job creator" as an Ann Arbor venture capitalist and Gateway executive.

Bernero sought to highlight Gateway's downfall the day after the Aug. 3 primary election, accusing Snyder of "outsourcing and offshoring the American dream." Bernero has said he's the true job creator in the race.

"What he's developed is he's developed jobs overseas," Bernero said on the "Lucy Ann Lance Business Insider" on 1290 WLBY-AM. "He's developed jobs all right, but he's developed them overseas. That's the problem. He's just developed them on the wrong continent."
Contact AnnArbor.com's Nathan Bomey at (734) 623-2587 or nathanbomey@annarbor.com. You can also follow him on Twitter or subscribe to AnnArbor.com's newsletters.