Posted on
Thu, Jun 16, 2011 : 5:55 a.m.
Chelsea's Mission Marketplace reopening today in new Middle Street space
By Laura Blodgett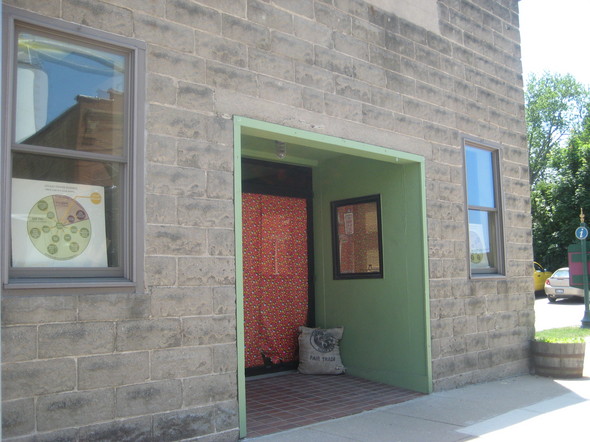 Laura Blodgett | For AnnArbor.com
The
Mission Marketplace
has found a new home at
115 W. Middle St.
in
Chelsea
and will reopen today in its new location.
The nonprofit, which specializes in selling fair-trade crafts, was forced to move from its previous location at 117 S. Main St. after five years when its lease was not renewed in favor of a 2,000-square-foot bakery.
"We were probably too comfortable assuming we would be able to just renew when the lease was up," says Gail McColloch, chairperson of the board of trustees of Mission Marketplace.
She adds that they were very pleased that the new renters were kind enough to allow them to camp out while they quickly looked for new space.
The new location is a historic building formerly used as a livery. It retains the original brick wall. For a long time, it was also a car dealership and most recently housed Middle Bead.
Because of its time as a car dealership, glass doors open to Middle Street and to a back entrance, a setup once used to move cars.
"We'll be able to open it up in the summertime to create a very open welcoming entrance," says McColloch. The back doors open onto The Common Grill parking lot and the business hopes to attract walk-in traffic that way.
The store is planning on re-establishing a similar look in its new location in terms of color scheme, and even plans to replicate its familiar mural onto a banner to take to the new space.
At 1,500 square feet, the new location is slightly smaller than the previous one but McColloch says the space change wasn't as bad as other locations that were significantly smaller. It also was move-in ready compared to other spaces.
"There are a limited amount of spaces available in town and we looked at all of them, including some spaces that were not advertised," she says.
Although she admits the business is concerned about a loss of visibility moving off Main Street, organizers feel they made the best move possible given their financial and time constraints.
"We took a little bit of a risk here but if ever there was a point during the year to make the move, this is it," explains McColloch, who says the store plans to do a lot of marketing during the summer with Sounds & Sights on Thursday nights and overall making the store more visible.
"We hope that through the summer events we'll get people to come around the corner or come in through the back," McColloch said.
McColloch adds that Middle Street has "really grown up" in the last five years or so.
"Right across from us is Mike's Deli and The Potting Shed and on the same side of the street is a wonderful old-fashioned barber shop and a cute place called Bumble's. And Zou Zou's Cafe is right on the corner."
Mission Marketplace works with artisans in a variety of countries to sell their crafts in order to support their families and work toward self-sufficiency.
"For every $1,000 we sell in the store, a family of five can feed, clothe and educate themselves for a year," says McColloch. "Over the past five years, we've probably helped over 8,000 families."
June 16 also marks the store's 5-year anniversary in Chelsea. While the shop is planning to celebrate that milestone, it will have a soft opening at the new location today. A grand opening is planned for later in the summer.
"We have lost about three weeks' worth of actual retail time, which is sad, but we hope that with a really loyal customer base and Sounds & Sights coming up and better strolling weather, we will be able to recoup that," says McColloch.
Laura Blodgett is a freelance writer for AnnArbor.com.