Posted on
Thu, May 12, 2011 : 3:27 p.m.
Mitt Romney pans 'ObamaCare' in major health care reform speech at University of Michigan
By Nathan Bomey
(This story has been updated several times.)
Likely Republican presidential candidate Mitt Romney said today in Ann Arbor that he wants to "repeal and replace" President Barack Obama's health care reform law.
Romney, a Michigan native, laid out several proposals for health care reform in a bid to reshape his image on health care, an issue that's dogged him in the five years since he passed reforms as governor of Massachusetts.
He said he wanted to give states the flexibility to decide that they don't want to participate in "ObamaCare." And he said the fact that the federal tax code favors employer-provided insurance and makes it difficult to buy insurance on your own is "tax discrimination."
Romney said that, if elected president, he would issue an executive order on his first day in office to provide "ObamaCare waivers" for the 50 states. Then, he said, he would work with Congress to repeal the legislation altogether.
Romney delivered his remarks before dozens of national media members and about 100 attendees in an invitation-only event at the University of Michigan's Cardiovascular Center.
Washington should adopt a law requiring the federal government to pay out Medicaid dollars in a block grant to states, Romney said. That would give the states more flexibility on how to manage Medicaid.
Melanie Maxwell | AnnArbor.com
Romney faces criticism from conservatives who don't like the reforms he adopted in Massachusetts and liberals who say his proposals would leave millions uninsured.
Romney spent a third of the 30-minute speech explaining why he championed Massachusetts' health care reform legislation, which extended coverage to almost all of the state's uninsured residents. The Massachusetts law served as a makeshift model for Obama's reform legislation, which Congress passed in early 2010.
He didn't back down from the Massachusetts reforms but said that the U.S. needs a different approach that nurtures innovative new policies and competition between the states.
"A lot of pundits around the nation are saying that I should just stand up and say this whole thing was a mistake," he said. "There's only one problem with that. It wouldn't be honest. I, in fact, did what I believe was right for the people of my state."
For the U.S., though, Romney said he would propose a system that gives the states the ability to make more decisions on their own, alters the federal tax code to help people buy their own insurance affordably and reduces frivolous law suits.
The Obama administration, he said, doesn't respect the federalist system's role in encouraging competition among the states.
"They fundamentally distrust free enterprise and distrust the idea that the states are where the power of government resides," he said.
He rejected the suggestion that the Massachusetts reform was a government insurance system. It was a "premium support program" that helped 400,000 uninsured residents get coverage.
"Our solution was a state solution to a state problem," he said.
But he later added that it "wasn't perfect. It included some things I wish we could have done differently."
Marianne Udow-Phillips, director of the Center for Healthcare Research and Transformation, a nonprofit supported by U-M and Blue Cross Blue Shield of Michigan, said in a phone interview after the speech that Romney's assertion that Massachusetts' health care reform law is fundamentally different than Obama's law was "contradictory and not totally supported by the facts."
"They are not nearly as different as he was trying to say," she said. "He described the Affordable Care Act as a government takeover. Frankly, it is no more of a government takeover than the Massachusetts plan. ... This whole idea that it's a government takeover is really pretty misleading."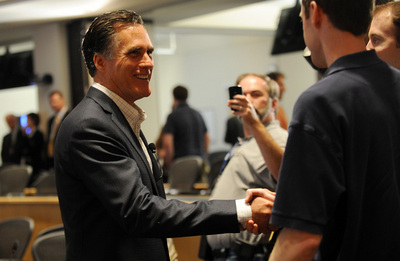 Melanie Maxwell | AnnArbor.com
She added: "I didn't hear anything new and I'm guessing it's not going to satisfy the critics on either side of the aisle."
Romney's proposal to convert federal Medicaid dollars into block grants for the states would lead to a $1.4 trillion drop in federal spending on Medicaid over the next decade, according to a study released Tuesday by the Kaiser Commission on Medicaid and the Uninsured.
The commission — studying Republican U.S. Rep. Paul Ryan's block-grant proposal, which is similar to Romney's — estimated that 31 million to 44 million people would lose Medicaid coverage if this proposal is adopted.
It "would trigger major reductions in Medicaid program spending that could result in significant enrollment decreases compared to current projections, a shift with big implications for states, hospitals and tens of millions of low-income Americans who likely would wind up uninsured," Kaiser said.
Udow-Phillips said she agreed that favoring block grants would reduce the number of people covered by Medicaid, a program that has boosted the federal deficit and hobbled state budgets throughout the country.
"We would expect that people will lose coverage," she said. "And that is a concern."
Romney's appearance in Ann Arbor comes as the Republican presidential field is taking shape. Candidates or possible candidates include Romney, U.S. Speaker of the House Newt Gingrich, U.S. Rep. Ron Paul, former Minnesota Gov. Tim Pawlenty, former Arkansas Gov. Mike Huckabee and former Utah Gov. Jon Huntsman Jr.
Mark Brewer, chairman of the Michigan Democratic Party, said Romney's revised health care reform policies solidify Romney's reputation for "back-tracking and flip-flopping."
"Mitt Romney will do anything to get elected president," Brewer said. "He's changing his positions in order to get the nomination for president, catering to the right wing of the Republican Party, because the record he established as Massachusetts governor is something they've been very critical of."
Romney said the Obama administration's health care reform policies "repel people from coming into the medical profession" and will "discourage innovation."
"It kills jobs," he said.
U.S. Rep. John Dingell, D-Dearborn, issued a statement after the speech supporting federal health care reform, saying it was "intriguing" to watch Romney "back pedal."
"His vague generalities gave the impression he was saying something, when in reality he said nothing at all," Dingell said. "It was quite the speech."
Romney's invitation-only speech at U-M — paid for by the College Republicans and not endorsed by the university — served as a reminder of his ties to Michigan. His father, George Romney, was governor of Michigan in the 1960s. Romney himself was born in Michigan but has not lived here for decades.
Still, his Michigan roots are viewed as an asset in the Republican presidential primary and, if he is nominated, in the general election.
Brewer acknowledged that Michigan should not be viewed as a guaranteed win for Obama.
"Michigan's going to be competitive," he said. "It's been a very competitive presidential state for a long time. We've been fortunate enough through a lot of hard work and candidates to win here since '92, but that's not something you can take for granted."
Attendees at Romney's speech included a smattering of doctors and local officials, including cardiologist and former Republican congressional candidate Rob Steele and U-M Vice President for Government Relations Cynthia Wilbanks. U-M President Mary Sue Coleman and U-M Health System CEO Ora Pescovitz did not attend.
Romney's speech drew support from Steele, who said states should be laboratories of innovation for health care reform.
The federal law "needs to be repealed and replaced," Steele said.
Michigan Gov. Rick Snyder also did not attend. His spokeswoman said Snyder was invited but could not attend or speak to Romney by phone due to scheduling conflicts.
AnnArbor.com reporter Juliana Keeping contributed to this story.
Contact AnnArbor.com's Nathan Bomey at (734) 623-2587 or nathanbomey@annarbor.com. You can also follow him on Twitter or subscribe to AnnArbor.com's newsletters.