Posted on
Wed, Sep 29, 2010 : 12:10 p.m.
Mobiata introduces mobile app that mimics airport flight boards
By Nathan Bomey
Ann Arbor software startup Mobiata is introducing a new mobile application that allows travelers to instantly view the flight boards at 4,000 airports and 1,400 airlines throughout the world.
Mobiata said the new application, called FlightBoard, costs $3.99 and is available starting today on Apple's iPhone, iPad and iPod Touch. The company expects to develop the app for other mobile devices, as well.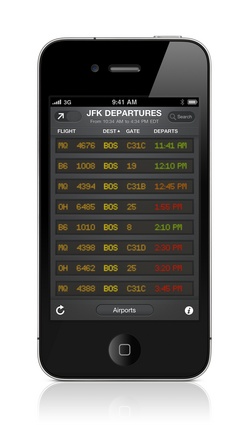 Photo courtesy of Mobiata
"Our new FlightBoard app transforms your iPhone or iPad into an arrivals/departures board," Mobiata CEO
Ben Kazez
said in a statement. "Based on the beautifully designed airport board at Charles de Gaulle Airport in Paris, FlightBoard brings the romance of travel to everyone, from the armchair traveler to the frequent flyer, with real-time information."
Mobiata, the region's largest company focusing exclusively on mobile software, recently signed a lease for office space on the second floor of Ann Arbor shopping corridor Nickels Arcade. The firm, moved from Minnesota to Ann Arbor in early 2009, expects to have nearly 20 employees by the end of the year, though some are located outside of Michigan.
The firm's popular FlightTrack application, which allows travelers to keep tabs on flight status, helped the firm top $1 million in 2009.
Kazez, who founded the company, was recently nominated as one of Bloomberg BusinessWeek's top 25 "best young entrepreneurs" of the year.
Contact AnnArbor.com's Nathan Bomey at (734) 623-2587 or nathanbomey@annarbor.com. You can also follow him on Twitter or subscribe to AnnArbor.com's newsletters.