Posted on
Thu, Jul 8, 2010 : 6:01 a.m.
Mobiata plans hiring at new Nickels Arcade office as travel apps take off
By Nathan Bomey
Consider Mobiata one of the first signs that the Ann Arbor region can generate jobs and economic activity from the mobile software startup community.
The firm, started by former Apple intern Ben Kazez in Minnesota and relocated to Ann Arbor in early 2009, plans to move into its first office on the second floor of Nickels Arcade. The company also expects to hire up to eight new employees this year to add to its existing staff of 10.

Mobiata, which is the largest mobile app company in the area, is riding momentum tied to its travel applications for the iPhone, iPad and other devices. Even visionary Apple CEO Steve Jobs gave the company high praise.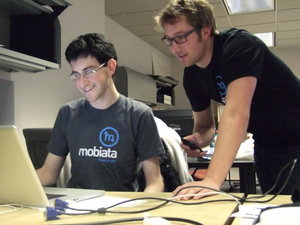 Nathan Bomey | AnnArbor.com
The firm's widely publicized FlightTrack app -- which helps travelers keep tabs on flight itineraries, gate changes and other flight details -- reaped more than $1 million in sales in 2009.
Mobiata's new 475-square-foot office is on the second floor overlooking Nickels Arcade, a popular covered shopping corridor that connects State Street with Maynard Street. Kazez hopes to decorate at least one room with furniture from an old airport terminal.

The company's new office is one of the first indications that the emerging mobile software industry can produce concrete economic activity for the Ann Arbor region.
"Basically we're in a business right now where we're only limited by the number of people we have," Kazez said.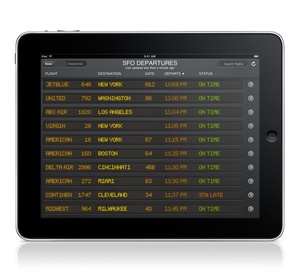 Photo courtesy of Mobiata
Kazez last fall successfully recruited recent University of Michigan graduate Jason Bornhorst, who co-created the DoGood application for the iPhone in summer 2009 and sold it earlier this year to a media company called Tonic.com.
Kazez is leading Mobiata's own apps, including FlightTrack, HotelPal and TripDeck. Bornhorst is leading Mobiata's efforts to develop apps for travel companies, a significant market opportunity as the travel industry delves into the nascent mobile app world.
"We have tons of ideas, and we have some really incredible partners that are coming together with some of the really major players in the travel industry," Kazez said. "The only thing we really need are the legs to make it work. The good news is I am finding people."
Kazez said he's spending a substantial portion of his time recruiting talented software developers, including people with expertise with Apple app development and Google's Android operating system.

Possibly one of the company's next goals is designing improved versions of HotelPal and TripDeck for the iPad. The iPhone versions of those apps will run on the iPad, but Kazez said optimized versions are being discussed.

Mobiata — like other Ann Arbor app companies such as Mobatech — is jockeying for position in a dynamic industry in which consumer preferences are constantly changing. Sales for many mobile apps trail off weeks after they're introduced.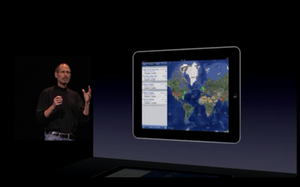 Photo courtesy of Apple
Consumers are also constantly demanding upgrades to their apps. Mobiata, for example, recently added an $3.99 "airport board view" extension to the iPad version of FlightTrack. Now, users are asking for the new feature to be integrated into the iPhone version of FlightTrack, as well.
Mobiata's growth meant that the firm no longer had space to grow at U-M's TechArb incubator, which it left in the spring, and the Tech Brewery incubator on Jones Drive, which it is leaving now.
Mobiata is growing without venture capital or intellectual property from a university. Instead, the company has benefited from popular apps with sharp design, not to mention free marketing in some of Apple's ads.

"Mobiata is a great example of how young entrepreneurs are changing the face of Michigan and also how Ann Arbor 's brand as an entrepreneurial hot spot is growing," said Doug Neal, director of the U-M's Center for Entrepreneurship, which cofounded the TechArb, in an e-mail.

"The great thing about student and young entrepreneurs is that they are not afraid to fail, take risks and attempt what many may believe is impossible. Their energy, enthusiasm and creativity is incredible and will have a long term economic impact to our state."
Contact AnnArbor.com's Nathan Bomey at (734) 623-2587 or nathanbomey@annarbor.com. You can also follow him on Twitter or subscribe to AnnArbor.com's newsletters.