Posted on
Thu, Aug 26, 2010 : 6 a.m.
Mobiata partners with FareCompare for iPhone app featuring airfare rate alerts
By Nathan Bomey
Ann Arbor-based mobile software firm Mobiata on Wednesday released a new iPhone app designed for airfare rate tracking service FareCompare.
The new app -- a free download that quickly vaulted into the list of the top 15 free travel apps in Apple's App Store -- allows travelers to get immediate alerts sent to their phones when an airline drops rates on routes they like to track.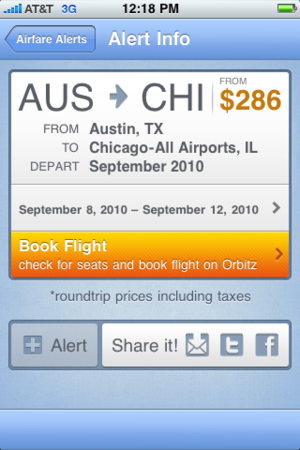 Photo courtesy of Mobiata
The release reflects Mobiata's dual strategy of developing its own apps and partnering with global travel companies to design and create apps on behalf of those partners.

The new release, called FareCompare When-to-Fly Airfare Alerts, comes just a few weeks after Mobiata created an app for vacation rentals website HomeAway.com.
"We've had such great success with our own apps that people have approached us and said, 'We'd love to have you work with us,'" said Jeremy Xavier, Mobiata's vice president for marketing, who works from California to communicate with Apple and Google. "We work with companies that we think have something that will help us create the best possible tools for travel."
Mobiata -- which topped $1 million in sales in 2009 for its applications, including the popular FlightTrack app -- is based at a second-floor office in Ann Arbor's Nickels Arcade shopping corridor. The firm, founded by entrepreneur Ben Kazez in Minnesota, moved to Ann Arbor in early 2009 in part to take advantage of the software talent in this region.
Mobiata's latest release is the first iPhone app for FareCompare, a major brand in the travel industry. It allows travelers to quickly track fare changes, giving them a chance to book flights before fares rise or share them with friends.

It also features a map of the latest fares at airports throughout the country, giving users the chance to see the most affordable places to vacation. Apps for the iPhone also work on Apple's iPod Touch and iPad.
"The launch is going extremely successfully," said Jason Bornhorst, who handled development of the app for Mobiata. "FareCompare is the leader in having the biggest database in both historical and future airline prices."
The app is free, so there's no sales revenue to be split between Mobiata and FareCompare. Bornhorst declined to discuss details of Mobiata's financial agreement with FareCompare but described the relationship as "managed mobile development" and "mobile as a service."
"We don't do basic contract work," Bornhorst said. "It's not really productive and not really what we're looking for."
Mobiata is actively hiring software developers and could have as many as 18 employees by the end of 2010, Kazez recently said.
Contact AnnArbor.com's Nathan Bomey at 734-623-2587 or nathanbomey@annarbor.com. You can also follow him on Twitter or subscribe to AnnArbor.com's newsletters.