Posted on
Wed, Oct 3, 2012 : 5:58 a.m.
Multi-family housing development proposed near Ann Arbor's Kerrytown
By Lizzy Alfs
A house and parking lot on North Fifth Avenue in near the Kerrytown district is the latest Ann Arbor property to be targeted for development.
Ann Arbor architectural firm Bowers + Associates submitted a site plan to the city last month on behalf of property owner Robert Burskey, seeking to demolish the existing structure and build a 2.5-story development.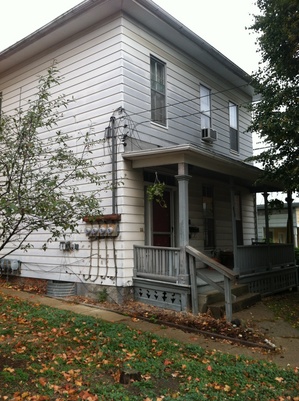 Lizzy Alfs | AnnArbor.com
The four-unit, multi-family development would include six parking spaces, according to the plans.
Situated on a .2-acre parcel just north of East Kingsley Street, the property has a large and underutilized parking lot adjacent to the house. The 3-bedroom house is currently a rental property, said City Planner Matt Kowalski.
The property has an assessed value of $152,700, making its estimated market value about double that. Burskey purchased the property in March, according to city documents. He did not return requests for comment about the plans.
Kowalski, who has only completed a preliminary review of the plans, said he does not see any planning and zoning issues. The site plan is expected to go before Ann Arbor's Planning Commission in November before moving to City Council.
Just a block northeast of the North Fifth Avenue site, a developer submitted an application last week to Ann Arbor's Historic District Commission to build a flat-iron multi-use building.
Dan Williams of Maven Development wants to demolish a 400-square-foot blighted gas station at 544 Detroit Street to construct a 4,000-square-foot building with office space on the first floor and condominiums on the second and third floors.
Lizzy Alfs is a business reporter for AnnArbor.com. Reach her at 734-623-2584 or email her at lizzyalfs@annarbor.com. Follow her on Twitter at http://twitter.com/lizzyalfs.