Posted on
Tue, Nov 13, 2012 : 5:59 a.m.
Marketing firm moves to North Main Street to make way for Canadian parks reservation company
By Ben Freed
Internet marketing firm MyBuys moved out of their offices on East Liberty Street in a hurry last week.
The quick departure to offices on North Main Street was necessary to make way for construction in advance of a new tenant, Canadian park reservation service Camis. The Guelph, Ontario-based company expects to move in by Jan. 1.
The California-based company has been looking for a new home for months and is still working on a deal for a long-term lease in downtown Ann Arbor, director of operations Bill Mulder said.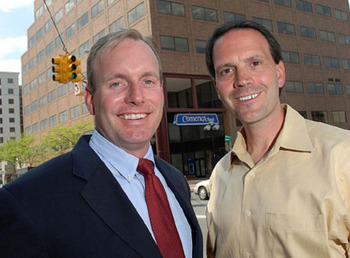 File photo | AnnArbor.com
"We are currently leasing space in 101 North Main Street," he said. "What we have is a multi-month agreement, but it's not long-term."
MyBuys, which also has offices in New York City and London, has grown to about 70 employees in Ann Arbor. The company had outgrown the approximately 6,500-square-foot office on East Liberty and their current lease puts them in a space that is about 7,300 square feet.
"They're potentially talking about signing for about twice that much," Realtor Neal Warling said.
"We just had to get them moved quickly to make space for Camis to start doing the work they needed to on the Liberty space."
Warling, who represented both MyBuys and Camis with Jones Lang LaSalle, said the Canadian company will use the space as both a United States headquarters and a call center for American clients.
"They do all of the reservations for the State of Michigan campsites," he said.
"They wanted to be close to the University of Michigan to handle seasonal upticks in hiring. They can hire students during their heavy volume times in the spring and summer."
First Martin Corporation manages the space Camis is moving into. Construction on the offices started Monday and are expected to be completed in time for the company's New Years move in.
Broder and Sachse manages the 11-story One North Main building that is serving as MyBuys temporary home. Warling said a more permanent location for the firm could be announced within the next few weeks.
Ben Freed covers business for AnnArbor.com. You can sign up here to receive Business Review updates every week. Reach out to Ben at 734-623-2528 or email him at benfreed@annarbor.com. Follow him on twitter @BFreedinA2