Posted on
Tue, Dec 21, 2010 : 6:01 a.m.
MyBuys doubles staff, projects more Ann Arbor jobs in move to old Kinko's space
By Nathan Bomey
MyBuys, a firm that helps online retailers deliver personalized product recommendations, is emerging from the economic malaise as one of the Ann Arbor region's fastest growing tech companies.
The Redwood City, Calif.-based firm has doubled its Ann Arbor staff over the last year and now has 50 employees downtown, CEO Bob Cell told AnnArbor.com.
To accommodate more workers, MyBuys last month signed a lease to move from an office on Main Street to the former Kinko's space at 520 E. Liberty St. across from the Michigan Theater and next to The Necto club.
Cell said he expects the company to continue to expand its Ann Arbor presence as demand surges for its personalized recommendation expertise. Many of its new employees have been recent U-M graduates. The firm also has about 50 employees in California.
MyBuys said in a news release in November that it now has more than 325 clients, including an additional 63 in its latest fiscal quarter. The company's growth reflects a desire for better product recommendation technology, a dynamic field in which retailers are constantly looking for a digital edge.
"We experienced north of 100 percent growth this year," he said. "That is revenue, that is bookings, that is employment and we look for the same thing next year. A large chunk of our employment will be in Ann Arbor."
The growth comes about two and a half years after MyBuys received a $3.9 million tax credit from the Michigan Economic Development Corp. tied to a promise to add about 250 workers over the next 10 years.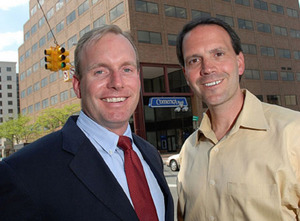 File photo | AnnArbor.com
Since then, MyBuys has expanded its personalized product recommendation services to integrate display advertising, mobile devices and direct mail, Cell said. That's in addition to recommendations delivered through retailers' websites and e-mailed newsletters.
All those platforms "are coordinated to know what the consumers have seen and what they haven't," making recommendations more effective, Cell said.
The firm's clients include the websites of companies like Mrs. Field's and KitchenAid.
Cell, a U-M graduate now living in California, said he is expanding the company's presence in Ann Arbor in part because he wants to play a role in helping Michigan's economy get back on track and because of the local talent pool.
"I've always wanted to bring tech back to Michigan. That's a big part of it," he said.
But Cell also said the Midwest offers several attractive elements that Silicon Valley can't offer.
In Silicon Valley, he said, "we have a strong base of individuals that we're recruiting that have options that are not as attractive as ours," he said. "By growing so fast and doing such a great job we stick out in the Ann Arbor market, and we become a employer of choice, whereas in the Valley, people come and go faster. I believe there's more long-term stability in Michigan."
In its real estate search, MyBuys was represented by Newcombe Clark of Jones Lang LaSalle. The former Kinko's space is owned by First Martin Corp., which was represented by John Teeter.
"It was retail that potentially could have sat dead for a while and it didn't. It fit their needs. It kept them downtown and it worked out well," Clark said. "I never can keep up with them, they're always hiring someone new."
The move marks the second time in recent months that a tech company has signed a lease for office space in the area of State and Liberty streets. A few months ago, mobile apps firm Mobiata, recently acquired by Expedia, signed a deal for an office on the second floor of Nickels Arcade.
MyBuys is one of several coastal tech companies that is aggressively expanding its presence in Ann Arbor.
Others include: California-based Barracuda Networks, an information security technology company that is adding about one IT engineer a week for its Ann Arbor R&D headquarters on Depot Street; and Massachusetts-based Arbor Networks, a University of Michigan spinoff firm that was acquired in August by Plano, Texas-based Tectronix Communications, which plans to add 30 jobs to Arbor's Ann Arbor R&D headquarters by the end of 2011.
The talent pool admittedly is not the only thing attracting tech companies to this area. Low housing prices are also emerging as an attraction for some coastal firms that realize they won't have to pay Michigan workers as much as they have to pay workers in places like California and Boston, where the cost of living is markedly higher.
"It's an aspect to the equation," Cell said.
Contact AnnArbor.com's Nathan Bomey at (734) 623-2587 or nathanbomey@annarbor.com. You can also follow him on Twitter or subscribe to AnnArbor.com's newsletters.