Posted on
Thu, Oct 11, 2012 : 1:30 p.m.
NanoBio chooses CEO with experience in acquisitions and public offerings
By Ben Freed
David Peralta, who joined NanoBio in 2006 as chief financial officer, will take over as the chief executive officer of NanoBio Corporation from its founder.
Dr. James Baker, who founded the company in 2000 as a spinoff of the University of Michigan's Center for Biologic Nanotechnology, recently joined Merck & Co. as a senior vice president responsible for the pharmaceutical giant's global vaccine franchise.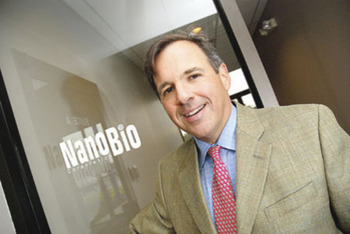 File photo by Robert Ramey | AnnArbor.com's Business Review
"I believe that NanoBio can play a very important role in the future of medicine," Peralta said in a statement. "We are on the forefront of harnessing nanotechnology to safely treat some of the most troublesome skin and lung infections."
The company has used the NanoStat technology pioneered by Baker to develop nasal-spray vaccinations, infection preventatives for cystic fibrosis patients, and cold sore medications. British pharmaceutical giant GlaxoSmithKline purchased the company's cold sore medication technology for $14.4 million up front with up to $40 million in milestone payments.
Before coming to NanoBio, Peralta directed the finances of two companies that were eventually acquired by larger entities. He was vice president and CFO of software company Arbortext when it was acquired by PTC in 2005 and was also CFO of Mechanical Dynamics, Inc. where he oversaw the company's initial public offering in 1996 and sale in 2002.
Successful local biotech companies have often attracted the attention of major international conglomerates, with Compendia Bioscience being the most recent example when it was acquired by Life Technologies on Monday. Peralta's prior experience could be helpful if NanoBio chooses to seek acquisition in the future.
Ben Freed covers business for AnnArbor.com. Reach him at 734-623-2528 or email him at benfreed@annarbor.com. Follow him on twitter @BFreedinA2