New Ann Arbor gas station to focus on local food - and Dexter Bakery goods
Posted on Fri, Sep 28, 2012 : 2:55 p.m.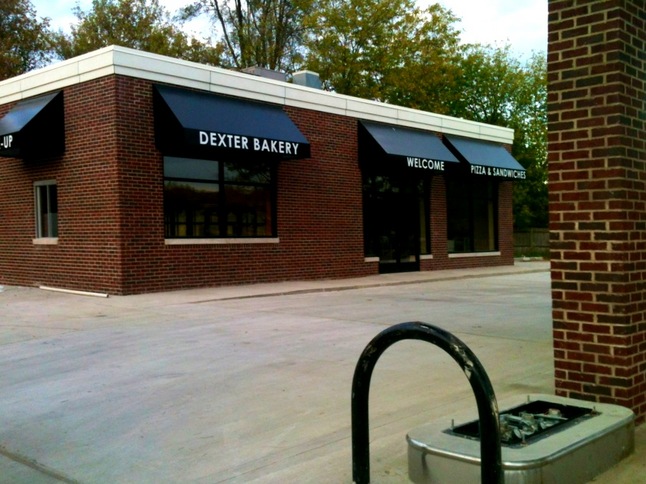 Angela Smith for Ann Arbor.com
Think that's Dexter Bakery moving in to the renovated gas station on Packard Road just west of Platt?
Think again.
"We've been flooded with calls about it," said bakery owner Karen Dudek.
The building - a former Citgo gas station - is being remodeled, and the awning prominently displays "Dexter Bakery" over its main entrance.
But the bakery goods are just a piece of the vision that owner Charles Gallup has for the property.
Gallup explains that the property has been owned by his family for 50 years, when his father acquired the property and built a gas station in the 1950's.
Most recently, the location was a Citgo gas station. It closed in 2010, when gas prices skyrocketed and sales tanked. The space has been leased out to various managers, and Gallup hopes to find a lesee for the current enterprise, a locally owned gas station with a neighborhood style eatery inside.
Gallup says he has not decided on a name for the business yet, but that he has nine other small gas stations in Southeast Michigan, and is leaning towards the name "Gallup One Stop" which he has used in the Monroe and Ypsilanti areas.
Twenty years ago, he ran a successful group of similarly themed shops, named Pump N Pantry. Gallup sold the businesses to a buyer who renamed them the Hop-In, and then affiliated with Clark.
"When Clark went bankrupt, I reacquired the properties," said Gallup
Gallup's new station on Packard will have four new pumps, and will compete with two corner gas stations just east at the corner of Platt and Packard.
His plan is to focus on offering convenient and delicious food items inside a small cafe area within the convenience shop. The shop will have a drive-up outside window to make on-the-go food sales extra convenient.
Gallup has already contracted with Dexter Bakery to provide bakery items for the mornings. He is still considering what vendors to offer for lunch and dinner quick meals, but is looking at pizza and sandwiches.
Dudek believes the neighborhood eatery vision will work.
"We've gotten a lot of calls," she said. "We are happy to be providing our products here."
Dudek says that Dexter Bakery wholesales to 20 other businesses from Chelsea to Ypsilanti.
"People are really excited about finding our product (in areas outside of Dexter)."
Gallup expects the new business, at 2955 Packard Road, will be ready to open in two weeks.