Posted on
Sun, May 1, 2011 : 5:57 a.m.
New Ann Arbor SPARK CEO Paul Krutko lays out job creation philosophy
By Nathan Bomey
(Editor's note: AnnArbor.com executive vice president Laurel Champion serves on Ann Arbor SPARK's Board of Directors and Executive Committee.)

Paul Krutko has no interest in a passive strategy to creating jobs.
Krutko, the new CEO of Ann Arbor SPARK, the region's economic development group, said he believes in an "intentional" regional approach to boosting the economy. That includes encouraging a network of incubators, helping startup companies attract investment and strategically luring outside companies to expand locally.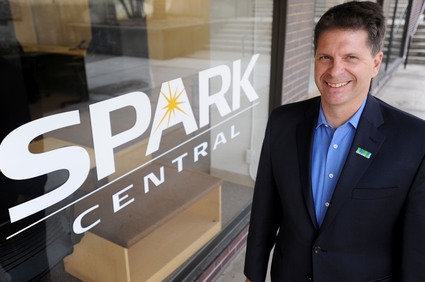 Angela J. Cesere | AnnArbor.com
But Krutko said that "economic gardening" — which favors providing services to existing business and entrepreneurs instead of throwing expensive incentives at outside companies — is the best way to boost the economy.
With that in mind, he said one of first priorities is to speak with executives from the 150 biggest companies in the Ann Arbor area to find out how their companies are doing and what they need to survive and grow.
It's a strategy that worked for San Jose, Calif., before Krutko even joined the city to lead its economic development efforts. San Jose is the home of web auction firm eBay, which was cultivated in a local startup incubator.
"The lesson of eBay and Silicon Valley is that intentional innovation — intentional entrepreneurial development strategies, gardening — is something that does work," Krutko said.
Nonetheless, governmental officials are increasingly saying that they can't afford to offer expensive tax incentive packages to companies to convince them to expand.
Michigan Gov. Rick Snyder, who co-founded SPARK in 2005 and served as its chairman until 2009, wants to eliminate most of the state's business tax credits and limit them to a capped annual pool of incentives. He recruited former SPARK CEO Michael Finney to serve as CEO of the Michigan Economic Development Corp. and replicate many of SPARK's initiatives on a statewide basis.
SPARK has an annual core operating budget of about $3 million, including about $1 million in tax revenue and funds from local universities, municipalities, businesses and nonprofits. The group manages three business incubators housing several dozen startup companies, provides grassroots services and retraining to entrepreneurs and communicates regularly with existing companies to convince them to stay and expand in the Ann Arbor area.
Krutko, who started his new job April 18, recently spoke with AnnArbor.com's Nathan Bomey about his economic development philosophy, Snyder's tax credits proposal and why fundraising is one of his key priorities. Excerpts:
Paul Krutko

Ann Arbor SPARK's new CEO

Age: 55

Work history: Chief development officer at the city of San Jose from 2002 to 2010; worked for municipal economic development and downtown development offices in Jacksonville, Fla. from 1997 to 2002 and Cleveland from 1990 to 1997.
Outside work: Serves as secretary/treasurer of the International Economic Development Council.
Education: Bachelor's degree in urban planning and design from the University of Cincinnati's College of Design, Architecture and Art.
Why he left San Jose: Krutko says he was at the age where he could draw a pension and that he had a difference in philosophy with the city manager and governor. Local news reports indicated that Krutko violated a city policy, but Krutko and SPARK chairman Stephen Forrest have declined to share details.

AnnArbor.com: SPARK has been going in a regional direction and focusing on the fact that economic development involves not just your local community but the entire state. How do you feel about that philosophy? What role should SPARK have statewide?
Paul Krutko: Personally and professionally I don't see any misalignment with the direction that SPARK is going in.
At the International Economic Development Council … we have been talking about the need for economic gardening, entrepreneurship, innovation-based approach as opposed to the hunting approach, which is the olden days of economic development.
(With that strategy, you) put some unsustainable economic incentives on the table, then you go off and whack a company over the head and drag them back to your home community. That is still prevalent in economic development.
The approach SPARK is taking — that Mike initiated here with the governor and the rest of the leadership of this community — is the approach we're advising other communities in the United States to take.
If you look at Silicon Valley, there are 20 to 30 municipal jurisdictions that make up Silicon Valley. The companies themselves don't recognize the municipal boundaries, nor do the employees.
I'm a firm believer in regional collaboration. Our competitive frame now, both nationally and globally are regions, not individual municipalities.
AnnArbor.com: What were the lessons of eBay and other similar situations in Silicon Valley that are applicable to what we're trying to do here?
Krutko: In the '90s, there became a concern about the diversification of the (Silicon Valley) economy. San Jose, in particular — well before I got there — made strategic investments. The city invested in a software incubator downtown. It was able to spawn a hundred companies and caused Adobe to locate its headquarters in downtown San Jose.
The lesson of eBay and Silicon Valley is that intentional innovation — intentional entrepreneurial development strategies, gardening — is something that does work.
And that the key is to be located in a place that has other environmental factors that will be successful. And I would argue that that's one of the things that really sets Ann Arbor apart.
The University of Michigan has one of the largest research budgets in the United States, if not the world. It has intentionality — from the president to my chairman, Steve Forrest — that it is the university's role to be engaged in getting those technologies out and commercializing products.
That's not something that every aspiring community who wants to have this kind of innovative economy has that rich resource.
You can't underestimate the importance of quality of life today. Talent is incredibly mobile, but place still matters. Where they go for lunch and what kind of recreational amenities they have, and what the quality of life overall is very important. So that's another substantive asset that this region has. This is a great place to live.
AnnArbor.com: Skeptics say that without the venture capital we're just going to hit a roadblock time and time again. Do you view the low level of venture capital available here as a significant obstacle or is it just something that will come in time?
Krutko: If you have good ideas and solid business plans, you can get access to capital. The question isn't, is there money? There is money. I think we'll be able to find capital for the entrepreneurs.
One of the positive things — and not to oversell it — is that I do have connections back to Silicon Valley. And we're going to be telling a pretty compelling story about why they should be here.
AnnArbor.com: You've had a few different SPARK executives leave before you even got here, so you've got a leadership void. How important is it that you fill that at this point?
Krutko: It's critical. It's not a bad thing to have the former CEO of the organization move on to the state and to take people with him who are going to be able to take things that were born (at SPARK) to the state level. That's a good thing.
There has been some preliminary recruitment here. There are some names and resumes for me to look at.
I'm still trying to make sure I understand where we are and we may not structure ourselves exactly the same way, but I haven't made any decisions. I'm still getting input.
AnnArbor.com: Do you think SPARK's incubator network is healthy, strong and should be expanded? Have you assessed that?
Krutko: One of my goals is … how we can scale and amplify the platform that's been built here? So one of the key things that I'm going to put a lot of my personal time into is our funding situation and what opportunities we have to raise additional funds to look to scale and amplify.
At this point, SPARK is in a good financial position. Our stakeholders are generally pleased with what's SPARK is doing and how they're supporting it. The key thing for us to do more is to make sure we have an adequate resource base to do more.
AnnArbor.com: Is there any concern that SPARK's current funding base is too reliant on tax dollars or money from public universities that are struggling to pay the bills?
Krutko: In the conversations that I've heard so far, there is this commitment and a sense that the resources that are being made available from those public and university sources are appropriate and important investments for those entities to make.
This is a community that gets that these investments are absolutely vital to the ongoing and growing economic vitality of this region. These are investments that need to be made. And so I think that we're in a solid position.
AnnArbor.com: SPARK has some critics, people who are skeptical that what's being done here is worthwhile. What would you say to them?
Kruko: I would say to them that benchmarking against other economic development efforts around the nation, others are trying to emulate what SPARK is doing.
Others around the nation know about Ann Arbor now, know that these kinds of business support and entrepreneurial programs are here, know that Ann Arbor is really open for business and wants to have a vibrant innovative economy.
You could take an approach of doing nothing and hope that this would all happen on its own. If eBay hadn't found a home in an incubator and somebody hadn't given them some resources to get started, would eBay exist? Maybe, maybe not. I'd rather bet on being intentional about your economic future than just letting the world economy happen to you.
The future isn't foreordained. Many places that were the centers of the global economy 40 or 50 years ago aren't now. And things can change dramatically because of how fast products get to market now, the volatility in terms of innovation.
AnnArbor.com: Certainly Michigan knows that.
Krutko: Yeah. We've got a great set of assets and we're going to be intentional about trying to bring our economy back in a diversified way that will help inoculate us against the fact that we were so heavily concentrated.
AnnArbor.com: Are you comfortable with the governor's proposal to eliminate most of the tax credits and keep it to a capped pool of incentives?
Krutko: I understand the proposal better after having a conversation with Mike. What the governor is saying is that: Is it sustainable to provide tax incentives that have (to be paid out over) many, many years? … It's clear to me that Mike is working with the governor to build a war chest (of incentives).
I like the notion that if you're going to make an upfront decision about investing, you do that and the company then functions as a normal company. I think that's the way to go.
Contact AnnArbor.com's Nathan Bomey at (734) 623-2587 or nathanbomey@annarbor.com. You can also follow him on Twitter or subscribe to AnnArbor.com's newsletters.