Posted on
Wed, Sep 4, 2013 : 5:58 a.m.
New Buffalo Wild Wings planned for former Damon's site to add outdoor seating
By Ben Freed
The Buffalo Wild Wings planning to open in the former Damon's Grill location near Briarwood Mall will have new outdoor patio seating, according to plans submitted to the city.
JK&T Wings, the franchisee that will operate the location, purchased the property in June and announced plans to open for business sometime in late fall 2013.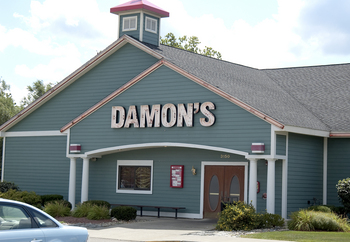 AnnArbor.com file photo
"We've had our downtown Ann Arbor location for a long time, and we think that there's the market to have a two in the city," JK&T spokeswoman
Mallory McLellan
told AnnArbor.com in July.
"The one we have now is on campus so there's not a lot of parking and it can be tough for families to go to. The new location gives us the opportunity to get more involved in the Ann Arbor community and appeal to the masses."
According to plans submitted to the city, the new restaurant will have outdoor seating in the front and along the site of the restaurant. The plans will also increase bio-retention on the property, bring the building's landscaping up to current code and reconfigure the parking lot as part of the renovation.
McClellan said that once the new restaurant opens it will employ approximately 100 people including servers, cooks and the restaurant management team.
The Damon's Grill that had been operating at 3150 Boardwalk Dr. closed February 24 after the business was "not able to sustain itself" according to franchise spokesman Jason No.
The property was purchased by JK&T for $1.9 million, according to city records. California-based investor Ronald Campos bought the building in 2006 for nearly $3.5 million.
Cincinnati-based Intertech Design Services, Inc. is the architect for the project and Southfield firm Atwell, LLC, is doing the engineering work.
The designs will need to be approved by the Ann Arbor Planning Commission and City Council before the project can move forward. JK & T chief operating officer Brian Carmody said the company is waiting for permuting approval before setting a construction timeline and potential opening date.
Ben Freed covers business for AnnArbor.com. You can sign up here to receive Business Review updates every week. Get in touch with Ben at 734-623-2528 or email him at benfreed@annarbor.com. Follow him on twitter @BFreedinA2