Posted on
Fri, Dec 21, 2012 : 5:58 a.m.
New company uses advanced video software for surprising results
By Ben Freed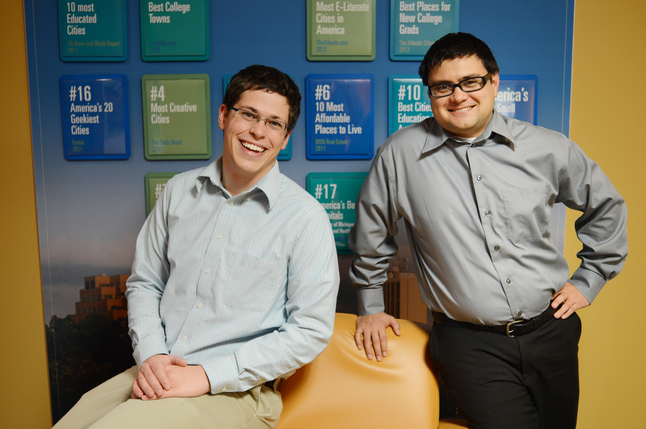 Melanie Maxwell | AnnArbor.com
It's been said that necessity is the mother of invention — but sometimes the father is happy coincidence.
While it's a strange combination, Russell Conard's passion for bird watching and talent for computer science led to a concept, now a company called Ornicept, that could have a major impact on wind farms, airports, and conservationists.
From humble beginnings as a research project, the company, currently located in Ann Arbor SPARK's downtown startup incubator, received a $25,000 prize in November as the Accelerate Michigan Innovation Competition's alternative energy sector winner.
Conard was doing graduate work at Indiana University in computer recognition when he began to wonder if he could harness the technology for a new purpose.
"Computer recognition is a very young field, you might be familiar with it from Facebook or your phone recognizing faces in pictures," he said.
"I wanted to get into recognizing bird species through video. As you can imagine there aren't a whole lot of people who would try to do this, and my advisor probably thought I was nuts."
After a few months of late nights, Conard started seeing results in his ability to identify certain species of birds. He had no idea that his hobby would be in such high demand.
"As part of outreach on the project I was talking to biologists and I spoke with one woman at a conference who asked me if I could identify eagles," he said.
"Because if so, I had to talk to people in the wind energy space because they're all trying to figure out how to identify eagles in the middle of nowhere where they want to develop wind farms."
Wind farms can be prone to killing large birds of prey like hawks, falcons, eagles and vultures. The federal government heavily regulates the farms and mandates extensive surveys if there is a risk that birds, especially eagles, will be killed once the farms are established.
"The only way those surveys can be done right now is to put a biologist in a lawn chair with a pair of binoculars and have him count birds," he said.
"Unfortunately, not only is this a waste of manpower, but the data is not as good as we'd like because you can't have five biologists at a site for three years. You have one and you move him or her around."
With Conard's system, cameras and computers could be set up around the site, monitor the skies, and record which birds of different species flew by. The possibilities for the technology generated so much excitement that people were asking to purchase the system before Conard had a company or even officially owned the intellectual property.
Justin Otani was consulting startups at IU at the time and had experience working in the school's office of technology transfer. He joined the company as CEO to handle the increasing business and legal demands and has overseen the move from Bloomington to Ann Arbor.
The move was spurred by Conard's wife being accepted into a graduate program in natural resources at the University of Michigan.
"When we were initially looking at splitting the offices, the more services we found out about here, the more clear it became that this was where we needed to be," Otani said.
"Michigan and Ann Arbor have really put their money where their mouth is on small business which really impressed us."
The pair have raised a small round of funding from friends and family and are "in with both feet" with their own resources on the project.
Otani said the company still is pre-revenue, and its first major pilot program is a joint Department of Defense grant application with the Wright Patterson Airforce Base in Ohio.
The technology will be used at the base in an attempt to lessen the amount of bird strikes (or bird-plane collisions) that occur as planes take off and land.
"This is our first major test, but we've also had discussions with multiple wind farms about setting up pilot programs for them as well," he said.
Ornicept currently consists of Conard, Otani, and recent U-M graduate Guanyu Zhou, but Otani said the company plans to expand to 10 people within the next year as they look to raise an angel round of funding.
For Conard, it all comes back to the birds and the people who watch them.
"One of the things that keeps us going every day is that a lot of these companies and organizations are so analogue, and no one has ever brought better tools to help them manage their data," he said.
"It's not like we're making the fourth version of something to compete in a space. We're the first people doing this and I feel really good about that."
Ben Freed covers business for AnnArbor.com. You can sign up here to receive Business Review updates every week. Reach out to Ben at 734-623-2528 or email him at benfreed@annarbor.com. Follow him on twitter @BFreedinA2