Posted on
Wed, Jun 13, 2012 : 5:57 a.m.
New Happy's Pizza at busy Ypsilanti Township intersection expected to open this summer
By Tom Perkins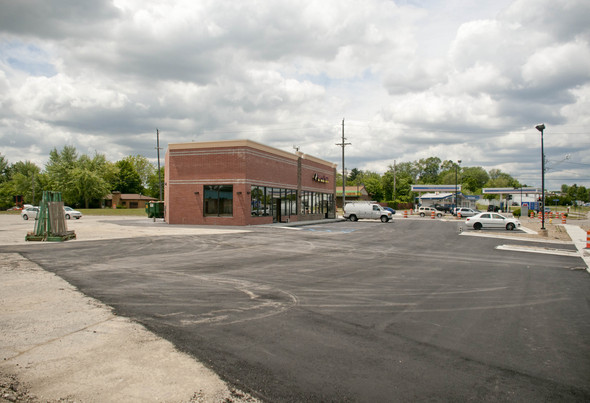 Tom Perkins | For AnnArbor.com
A Happy's Pizza that was expected to open last summer on the southeast corner of Washtenaw Avenue and Golfside Road in Ypsilanti Township will likely open this summer.
Problems with the site's design plans delayed the store's opening, but officials are hopeful it will open within the month.
The building's shell has been completed and interior work has begun, and problems with the design have been rectified. A second unit in the building will hold a tobacco shop, according to a sign posted on the building.
"Though we would have preferred a more timely completion of the project, slow progress is better than no progress," said Ypsilanti Township Building Director Ron Fulton.
Fulton said site plans approved by the Michigan Department of Transportation didn't include that the neighboring parking lot was four feet higher than Happy's lot.
Construction crews discovered the issue after beginning work on the site, but the building has been built and the lots are now contiguous. MDOT officials approved the site on a preliminary walk through on Monday.
The engineer is no longer involved with the project, Fulton said. Happy's representatives declined to comment on the story.
MDOT has to approve the plans because Wasthenaw is a trunk line. Currently there are two entrances to the property and left turns will be prohibited out of the curb cut, which is close to Golfside.
The site once held a Dairy Mart that closed in 2004 and has sat vacant since. It was owned by Edward Zeer, who had to address numerous blight-related issues and deal with vandals regularly breaking into the building.
Zeer proposed several plans to rehabilitate the property between 2004 and 2010, but none ever panned out. The township filed a motion in Washtenaw County Circuit Court in August 2010 to have the building declared a public nuisance, but representatives from Ypsilanti-Washtenaw Holdings LLC, which owns a Happy's Pizza on Washtenaw Avenue in between Golfside and Hewitt Road, approached MBZ LLC, Zeer's company that owns the intersection property, before the case ever went before a judge.
The two parties subsequently entered into a purchase agreement and plans to demolish the Dairy Mart and build Happy's were put into motion.
"The makeover of this corner promotes a far superior welcome (at the township's border) than what has been here for years prior," Fulton said.
Fulton added that the makeover of this corner is soon expected to carry over into the former Ypsi-Arbor Bowling Alley site. A developer is working on plans for "undisclosed" retail space and is expected to submit site plans to the township this month, Fulton said.