Posted on
Sun, Feb 10, 2013 : 5:58 a.m.
Health analytics company looking to grow Ann Arbor headquarters
By Ben Freed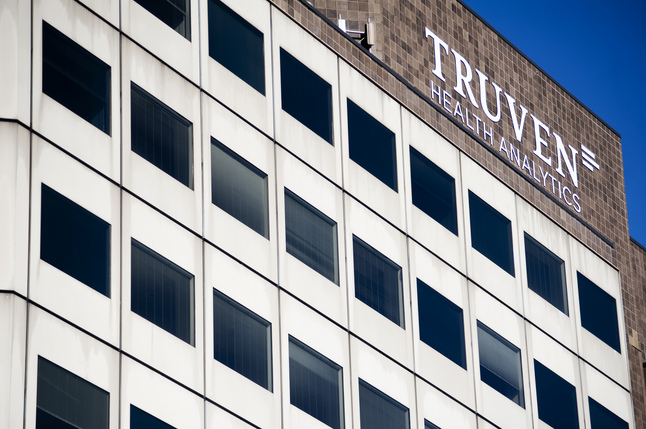 Dan Brenner | AnnArbor.com
Truven Health Analytics
, created in June 2012 by spinning off
Thomson Reuters Healthcare Business
, is looking to expand its already large
Ann Arbor
office.
The company, whose name is a combination of the words "truth" and "proven," helps organizations including employers, hospitals and the government analyze health care data and look for opportunities for performance improvement.
Courtesy Truven Health Analytics
"All the issues related to health care reform and all of the additional money being spent on health care infrastructure is all about increasing quality and decreasing cost of care," executive vice president
Jon Newpol
said.
"So we're right in the bullseye there."
Truven was created when New York-based private equity firm Veritas Capital acquired the former Thompson Reuters Healthcare Business housed in the 777 Building on Eisenhower Parkway. Before Thompson Reuters, the health analysts at the location had worked for a local company known as MedStat.
At the time of the sale, Thompson Reuters' CEO Thomas Glocer said the division was "growing and profitable" but "lack[ed] the integration with and global scale of our other untis." Veritas purchased the division for $1.25 billion.
After the sales and name changes, Newpol said the core functionality of the company has remained the same.
"We were very much a self-reliant unit," he said.
"We relied on Thompson Reuters for corporate infrastructure, their data center, and management information systems tools, but the people and all of the work we do with our customers was already in the unit. Separating out I don't want to say was real easy, but generally was not too hard."
Newpol said that since June the company has grown from about 715 employees to the current 730, but that the small increase belies the amount of change that has been occurring.
"We actually did a significant amount of local hiring in 2012," he said.
"There's a lot of work that we do that is project based. Some of that was coming to an end so it's natural for staff changeover to happen when you get into that… Our more recently hiring has been more long-term than project based."
The health analytics firm headquartered in Ann Arbor employs about 2,000 people internationally with major offices in Chicago, Denver, and Durham, North Carolina. Newpol said hiring decisions are often made regardless of geography.
"I can't say exactly how many we will hire here in Ann Arbor because location is not our top concern," he said.
"We have a significant number of positions open though and this is a big important location for us and it gets fair preference organizationally if we can bring people here."
Newpol said the company is looking to hire new employees with a range of expertise, including data management, software engineering and health care analytics.
Truven's website lists 41 job openings in Ann Arbor that range from administrative assistant to vice president of clinical analytics.
"The things we're capitalizing on now is that there is more of a long-term change in the system," he said.
"The benefits exchanges as well as other systematic changes are coming, and we're evolving to meet those customer needs."
Ben Freed covers business for AnnArbor.com. You can sign up here to receive Business Review updates every week. Reach out to Ben at 734-623-2528 or email him at benfreed@annarbor.com. Follow him on twitter @BFreedinA2