Posted on
Fri, Nov 11, 2011 : 10:58 a.m.
Is Hyundai considering new U.S. manufacturing plant? CEO won't say
By Nathan Bomey
The chief executive of Korean automaker Hyundai's American operations today refused to say whether the company is considering a new U.S. manufacturing plant as demand surges for its vehicles.
Hyundai Motor America CEO John Krafcik, speaking to about 100 reporters at a media event at the company's technical center in the Ann Arbor area, said the company is facing a production capacity crunch with sales surging.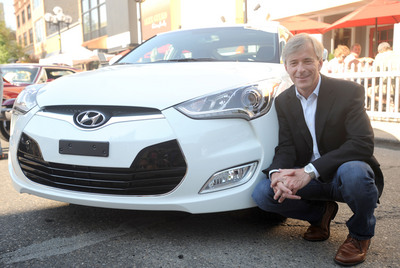 Angela Cesere | AnnArbor.com
But he dodged several questions about whether the company is considering building a new manufacturing plant in the U.S. Currently, Hyundai operates only one U.S. assembly plant in Alabama.
"Yeah, let me give you the top three sites," Krafcik said, laughing. "Sorry for the facetious response."
After another question about the company's deliberations, he offered this: "It's difficult for us to talk about because they're sensitive internal discussions."
Krafcik's comments come as the company is considering an expansion of the Hyundai-Kia America Technical Center on Geddes Road in Superior Township. Superior Township, in cooperation with the Michigan Economic Development Corp. and Ann Arbor SPARK, is establishing a tax-increment financing authority to help Hyundai pay for electrical improvements at the technical center.
Speculation about the company's manufacturing plans come as Hyundai is managing a sustained rise in interest in its cars. Krafcik said the average Hyundai dealer has 26 days of product supply, compared to an industry average of 58 days.
He said he spends much of his time explaining to dealers why the company can't produce more cars right now.
Hyundai's U.S. retail sales have increased by 31 percent this year as the company expects to sell more than 640,000 cars in the U.S. The automaker's retail market share is 5.7 percent, up from 5.1 percent a year ago and 2.5 percent in the first quarter of 2008. Analysts say Hyundai has grown because of its quality improvements and an intense focus on fuel efficiency and affordability.
Krafcik said the company boosted production capacity at its Alabama plant by 10 percent this year, from about 300,000 to about 330,000. The cars made at that plant — including the popular Sonata sedan and redesigned Elantra compact car — are sold in the U.S.
Without providing details, Krafcik said the company would find ways to sell more U.S.-made vehicles in the U.S. in 2012.
"We're an optimistic company," he said. "We always find ways to get more and do more, even though right now we don't know the answer."
In recent years, Hyundai has shifted its strategy from a focus on pure volume to a focus on quality, Krafcik said.
"The focus is building great cars, the focus is more on excellence for the consumer," he said. "From that will come profit and growth for the future. It's a very thoughtful strategy."
Contact AnnArbor.com's Nathan Bomey at (734) 623-2587 or nathanbomey@annarbor.com. You can also follow him on Twitter or subscribe to AnnArbor.com's newsletters.