Posted on
Tue, May 28, 2013 : 5:57 a.m.
Ex-Borders headquarters: Ann Arbor building redevelopment continues under new owner
By Ben Freed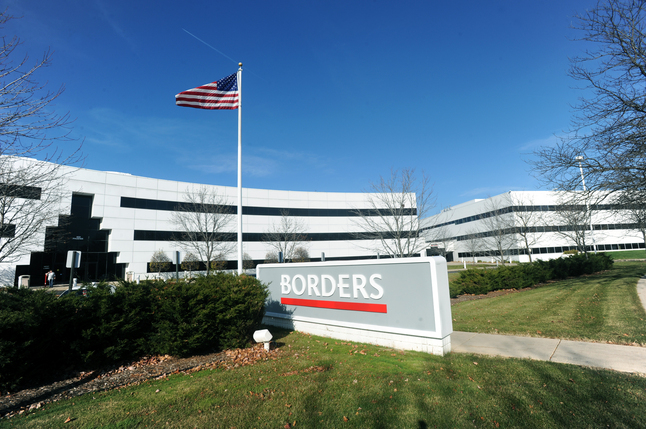 Photo by Lon Horwedel | AnnArbor.com file photo
The new owner of the former
Borders
headquarters on Phoenix Drive in Ann Arbor is ready for the first tenant to move in.
According to the Washtenaw County Register of Deeds, Ann Arbor-based Wickfield Phoenix LLC now owns the property. Managing director Brad Hayosh said he purchased the property February 6 for approximately $6 million, slightly less than the listed price.
Official figures on the sale have not been processed by the City of Ann Arbor, but the most recent assessment on the property was for $3.34 million, making the approximate market value $6.68 million.
Hayosh said the property is still being redeveloped, with a new central lobby set for completion within the next couple of weeks.
"We're going to call it the Wickfield Center," Hayosh said.
"I went to school at the University of Michigan and the first house I lived on was on Wickfield Court, so that's where the name comes from."
The first business to move into the re-done space will be Gold Star Mortgage. The Ann Arbor-based company is leasing 68,000 square feet with an option on an additional 32,000.
"We're announcing about 250 new jobs in 2013," Gold Star CEO Dan Milstein, who already employs approximately 250 people in the Ann Arbor area, said in a previous interview with AnnArbor.com. "The new office space gives us room to grow and we plan on using that."
Through other Wickfield entities, Hayosh also manages residential properties in Lansing and the Arbor Village apartment complex in Ann Arbor.
His newly acquired space consists of two buildings, one that's approximately 87,000 square feet and one that's about 243,000 square feet. They were built in 1970 and renovated in 1998, and the property has more than 1,200 parking spaces.
"We're very excited about this property," he said. "We think it's a great building, tremendous location, with terrific parking and we look forward to using it to bring new business into town."
Hayosh said that in addition to Gold Star, he is in negotiation with two or three other large tenants who are interested in moving into the property. The remaining available space is listed through Colliers International.
"There's a lot of interest from companies that are already in the area and some from further out of town," he said. "Hopefully within the next couple of weeks we'll have more of the leases closed and ready to go."
Wickman Phoenix LLC purchased the property from the Modern Woodmen of America. The Woodmen, a fraternal financial services organization founded in 1883, acquired the building from Waldenbooks Properties Inc. in December 2011 for approximately $5.25 million.
According to records from the Washtenaw County Register of Deeds, a mortgage on the property worth $6.49 million is held by Colorado-based Superior Investments XIX Inc.
Ben Freed covers business for AnnArbor.com. You can sign up here to receive Business Review updates every week. Reach out to Ben at 734-623-2528 or email him at benfreed@annarbor.com. Follow him on twitter @BFreedinA2