Posted on
Fri, Sep 6, 2013 : 5:57 a.m.
New owners of bed and breakfast on Washtenaw Avenue plan to overhaul business
By Lizzy Alfs
The Vitosha Guest Haus Inn on Ann Arbor's Washtenaw Avenue is getting a facelift after the property was sold in July.
Lana Hawkins and her husband, Mike Soltis, purchased the four-building bed and breakfast at 1917 Washtenaw Ave. and they changed the name of the business to Stone Chalet Bed & Breakfast Inn. They plan to make repairs, renovate the buildings and create an events destination. "We love old houses," Hawkins said. "We love to restore old things, so we thought this might be something cool for us to do."
"We're continuing to run it as a bed and breakfast, and we're going to improve it," she continued. "We think of it as a diamond in the rough. It has kind of been neglected maintenance-wise."
Initially a private, historic house that later served as a Unitarian church, Kei J. Constantinov converted the buildings to a 10-bedroom, 32-person capacity bed and breakfast in 1999. The buildings have historic character, and the bed and breakfast is decorated English cottage style, Hawkins said.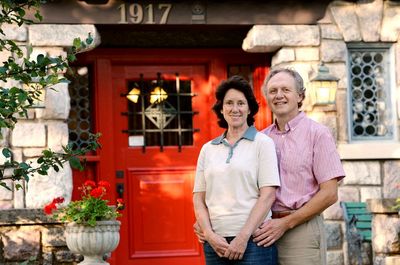 Melanie Maxwell | AnnArbor.com
The property has a 2013 assessed value of $684,400 and city records show Hawkins and Soltis purchased it for $800,000.
"It seems to be a pretty viable business; I'm happy about that," Hawkins said. "The place already has a good reputation and people know about it, so we want to let people know that we have new, friendly people in there taking care of it and wanting to help out the neighborhood."
Before moving to Stone Chalet, Hawkins and Soltis lived across Washtenaw Avenue from the property. They also own a student housing rental company, University-Places, with six rental houses near University of Michigan's campus.
Plans for Stone Chalet, Hawkins said, include making major repairs to the buildings' plumbing, roof and electrical service. They are redoing the landscaping on the property and plan to have a big garage sale to sell certain items from the bed and breakfast. They also plan to improve the rooms, she said.
"We're going to do some things to the window treatments and put bigger beds (in the rooms)," Hawkins said. "I don't think we want to change the character too much, but we're going to change it and make improvements and try to be competitive with the market."
What was previously operating as the Pinocchio Theatre under the bed and breakfast's former owner will become a small events center for parties of 100 people or less, Hawkins said. The events space is 2,800 square feet and Hawkins said it could be used for graduation parties, weddings or any other event.
She hopes renovations will be completed on the events space by January, and major repairs to the four buildings will be finished in the next couple months. Hawkins declined to reveal how much they will be investing in the property.
Hawkins said she believes the bed and breakfast is busiest during the summer and football weekends. She said it attracts business travelers, people affiliated with U-M, parents visiting their children and even couples on their honeymoon.
"We get quite a variety of really interesting people," she said.
The pricing structure at Stone Chalet hasn't changed since Hawkins and Soltis took ownership, but Hawkins said they plan to reevaluate it in the coming months. September room rates are being advertised for $149 to $159 per night.
Lizzy Alfs is a business reporter for AnnArbor.com. Reach her at 734-623-2584 or email her at lizzyalfs@annarbor.com. Follow her on Twitter at http://twitter.com/lizzyalfs.