Posted on
Tue, Jul 20, 2010 : 5:57 a.m.
Mangiamo's Italian restaurant to open soon in former Kelly's, Saline Cafe space
By Laura Blodgett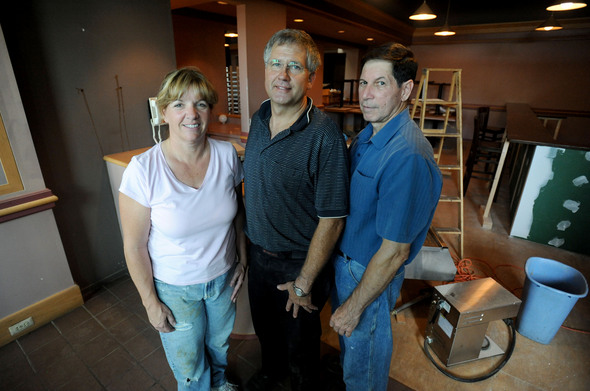 Angela Cesere | AnnArbor.com
The new owners of the Italian eatery that has taken over the former Kelly's and Saline Café space in Saline have made great strides since purchasing the property on April 14—including deciding on a new name, "Mangiamo's, which means "Let's eat!" in Italian.
"We just settled on the name," said Pete Toarmina, owner of Mickey's Dairy Twist in Saline, who is part owner of Mangiamo's along with his sisters Mary Sheko, Rose Tolson and their spouses.
"It was really hard to decide. Over the past few months all of us came up with different names and two or three of us would really like it, but the others would not."
Some of the names they passed on included their last name Toarmina, which is also the maiden name of his sisters, and Amarica, which was his mother's name, but they were concerned people would think they had misspelled it.
The family hopes to open the restaurant soon after receiving liquor license approval from the city and state.
"The Liquor Control Commission recently visited the site and was happy with everything but led us to believe it will be another two months to get through the rest of the approval process," says Toarmina.
In the meantime, they are renovating the 6,000-square-foot space including putting in a new ceiling in the bar as well as new walls, TVs and a quartz bar top and countertops. The carpet has been replaced with a new hardwood floor that is still wet from its last polyurethane coat. There will be an area behind glass where patrons can watch pizza being assembled.
"The kitchen and restaurant will be the next things we tackle," says Toarmina. "We will be putting in hardwood floors in there as well as a completely different color scheme and different lighting." They are planning on shades of green with oak trim and light wood flooring.
The restaurant will be a family restaurant with a price to match. "We don't want to be a luxury, high-end establishment," says Toarmina. "We want to be a place where parents are comfortable bringing their kids ---and can afford to bring them. I'm the oldest of eight kids, all my brothers and sisters have kids, we have five ice cream stores in the family, so we're kid people."
An element that certainly will make the restaurant kid-friendly is their plan to open an ice cream parlor and candy store with a separate entrance, which will most likely be called Mickey's Downtown. "This will be a mini version of Mickey's Dairy Twist," says Toarmina. "When people are downtown walking around, they can stop in get an Almond Joy, caramel corn, popcorn or ice cream. This side will also provide desserts to the restaurant proper."
Although they haven't settled on a food supplier yet, they plan to offer pizza from Toarmina's Pizza, a small chain of restaurants in southeast Michigan owned by Toarmina's brother.
The storefront's revival will add foot traffic to downtown Saline. It's the fourth restaurant downtown, joining Mac's Acadian Seafood Shack, Brecon Grille and Dan's Downtown Tavern.