Posted on
Wed, Aug 10, 2011 : 5:58 a.m.
Christian school signs lease to start resale shop at Country Market shopping center in Saline
By Lizzy Alfs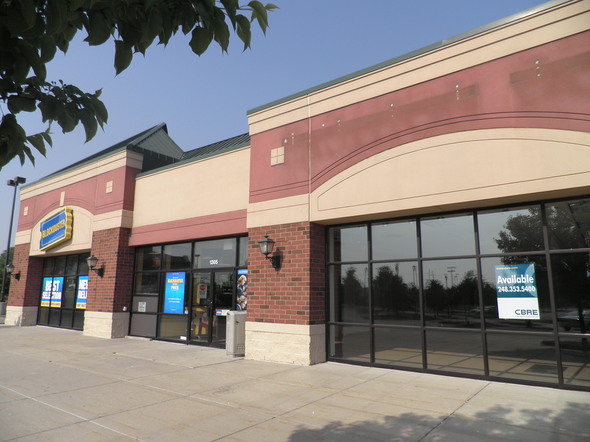 Lizzy Alfs | AnnArbor.com
A resale store,
Nu2U
, is set to open in the former
Fashion Bug
clothing store space in the
Commons at Sauk Trail
shopping complex in Saline by the end of August.
Nu2U, which is operated by Washtenaw Christian Academy, signed a lease in July to occupy the 8,000-square-foot space next to Blockbuster at 1311 E. Michigan Ave.
Store manager Lou Velker said the store would feature used clothing, shoes, housewares, furniture, linens, toys, books, sporting goods, jewelry, antiques, holiday items and electronics.
He said Nu2U would be "a little more upscale" resale shop, with a nice selection of items and a clean, orderly store.
Lizzy Alfs | AnnArbor.com
Velker said the store will be operated entirely by volunteers and 100 percent of the proceeds will benefit Washtenaw Christian Academy, which is located at 7200 Moon Road across from the Briarwood Ford auto dealership in Pittsfield Township.
"We're doing this to raise money for the school," Velker said. "Instead of having someone work full-time trying to raise money, we're doing fundraising a different way. And with a store, anybody might be interested in coming in to buy something."
Velker said his goal for the store is to "eventually net a couple hundred thousand dollars a year" for Washtenaw Christian Academy.
He plans to have about 50 volunteers for the store that will work in three-hour shifts Monday through Saturday.
"I hope to get consistent, regular volunteers who are just doing it because it's a fun thing to do," Velker said.
The addition of Nu2U in the Commons at Sauk Trail complex comes as the center has been faced with several empty storefronts in the past few months.
Among recent vacancies in the center:
— The Fashion Bug clothing store, Pack & Mail and the Flaming Shish restaurant closed or left.
— The Dollar Tree relocated to The Oaks shopping complex, which is less than a mile west on Michigan Avenue
Meanwhile, the shopping center's anchor, the Country Market grocery store, is trying to fend off competition from the new Walmart a mile to the east in Pittsfield Township. The store has acknowledged a $25,000 weekly drop in sales after Walmart opened a store about a mile east on Michigan Avenue in fall 2009.
And Blockbuster, which operates a video rental store at the complex, is downsizing in bankruptcy.
CB Richard Ellis has been marketing the center's available space, with an asking rental rate of $12 per square foot, according to the listing. The owner of the complex is Ned Hakim of Investico Development Corporation.
Lizzy Alfs is a business reporter for AnnArbor.com. Reach her at 734-623-2584 or email her at lizzyalfs@annarbor.com. Follow her on Twitter at http://twitter.com/lizzyalfs.